Employment Enterprise - SME Human Resources Management Support to Association of Ghana Industries (AGI)
Association of Ghana Industries and Interims for Development Sign MOU to build Human Resources and Management Capacity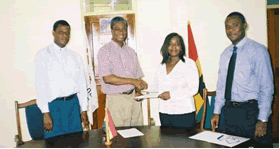 The Association of Ghana Industries (AGI) has signed a Memorandum of Understanding with Interims for Development, the UK based pan-African Human Resources development company, to build Human Resources management excellence in Ghana. 
The Association of Ghana Industries (AGI) was set up in 1958 and is the leading business organisation in Ghana with over 500 members from both the private and public sectors. It serves as a mouthpiece for the manufacturing and services sector and carries out proactive support services with a view to contributing substantially to the growth and development of industry in Ghana.
A major challenge facing today's private sector in Ghana is effectively developing and managing its human resources.  Under the terms of the agreement, the two organisations will co-operate in carrying out a series of activities to highlight and address the challenges faced in developing and implementing good Human Resources practices in the country. 
Interims for Development will assist the AGI through organising a series of training activities to focus on the key issues relating to the perception and actuality of Human Resources management and to help develop the competences of managers and Human Resources and Training professionals.  The company will also provide advisory services and support in this area for the both members and non-members of the Association. 
Mr. Kofi Kludjeson, President of the AGI, (pictured second from left above) welcomed the MOU as a significant step towards supporting the country's human resources development agenda.
"The Association is strongly focused on working with its members to radically improve efficiency, particularly among the small and medium sized enterprises in the country.  SMEs make up around 80% of businesses in Ghana and, unfortunately, poor management and people practices are hindering the ability of such companies to develop and create further employment."
Frances Williams, Chief Executive of Interims for Development, emphasised that the MOU lays the foundations of a partnership that will offer solutions appropriate to Ghana. "Ghana's future competitiveness depends greatly on the ability of senior managers and HR professionals to unlock people's potential.  The roles of business managers and Human Resources professionals have to be seen as a strategic partnership aligned to achieving business success.  We are looking forward to working with the AGI in its mission to boost the development of SMEs through sound and appropriate people management and development approaches."