Getting Back to BusinessIOM consults African Diaspora groups on planning a sustainable return and integration into Africa.
When an organization that has supported nationals from over 27 different African countries to return home asks for advice, one would have to ask what else they needed to know.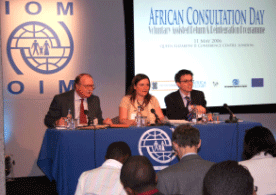 Yet, recognizing that no-one knows the needs of Africans more than Africans themselves, the International Organization for Migration (IOM) opened their doors to representatives of the African Diaspora in an open African Consultation Day held in May 2006.  Co-sponsored by Skills for Southern Sudan, Interims for Development and AfricaRecruit, the one day Consultation Day took place in the centre of London and was attended by almost 100 representatives of community and diaspora groups in the UK and Europe. 
Voluntary Assisted Return Programme (VARRP)
In holding the event, the IOM made it clear that they wanted a frank and constructive engagement with Africans and there was open debate throughout the plenary session and workshops.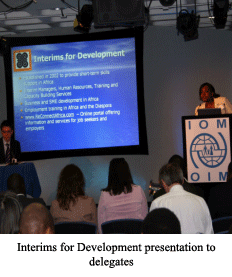 Opening the conference, Jan de Wilde, the IOM UK's Chief of Mission, underscored the success of the IOM's Voluntary Assisted Return and Reintegration Programme (VARRP) which has assisted over 13,000 people from the UK to return to their countries of origin around the world. 
The IOM VARRP programme offers assistance for asylum seekers who want to return permanently to their country of origin. The VARRP is open to asylum seekers of any nationality who have touched the asylum system and have either been refused an asylum claim or have withdrawn their application and wish to return home. 
The reintegration element of the programme began in 2002 and this initiative has enabled the IOM to offer a personalized and more integrated service to those who they assist.  Rather than just handing over a cash grant, the IOM staff members meet the returnee face to face after their arrival home and agree with them on their plan for re-integration; which usually means working on a business plan to start a business, finding employment or enlisting in further education.  This hands-on assistance helps to keep the returnee focused on their objectives while the continuous contact and advice helps them to sustain their activities.
So, what more did the IOM want to know?  According to Jan de Wilde, "Our goal for this conference is to broaden the scope of reintegration assistance in Africa beyond the relatively narrow focus we've had so far and to ensure that we is on offer is known to people in the UK." 
Addressing the concern that voluntary returns were sometimes less than voluntary, de Wilde pointed out that "we're not about twisting people's arms.  People will return largely as a result of their situation here and their situation in their countries of origin – both of which are beyond IOM's control."  He added that "we are here to help and we want to make the programme more attractive to enable people to establish viable alternatives in their country of origin."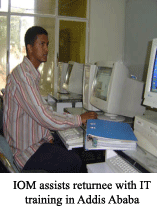 IOM UK's Reintegration Fund Manager, Sacha Chan Kam, told the gathering that engaging with the African Diaspora is key to the IOM's efforts to improve their service.  "You know best what activities, skills and skills gaps are needed in your country.  We would like to see this day not simply as a one day event, but as a building block and the start of a relationship with you to help those returning to do so with successful reintegration activities."
Currently the Reintegration Fund provides financial assistance of £3,000 per applicant.  While returnees can apply these funds towards assistance with education or vocational training, 80% of returnees ask for assistance with equipment, tools or seed capital for a business that leads to income generating activity. 
With 116 offices worldwide, the IOM is well placed to assist those who come to them for help.  Where they do not have a mission, they work closely with local NGOs who can provide the support on their behalf. 
The kind of support given to returnees is left to the individual to decide.  As Chan Kam said, "It is up to the returnee to dictate what their needs are and our role is to facilitate this.  Ultimately it is the individual themselves who can tell us about what they need."
Presentations by the event's co-sponsors highlighted the work being done by these organizations in developing the skills and human resource capacity of Africans within the continent.  Interims for Development highlighted the success of the training provided in Harare earlier in 2006 ("Back to Business in Zimbabwe" ReConnect Africa May 2006 Issue) for returnees from the UK setting up enterprises in the country.
The event also saw the launch of the IOM Reintegration Database which provides information on the reintegration programme and opportunities in training, education and business.  Regional workshops explored these themes further, with delegates offering a range of ideas to enhance the effectiveness of the existing programme.
For further information about the IOM VARPP programme and the IOM Reintegration Database, visit: www.iomlondon.org