Business by Design - Textile Skills for Kenyan Knitters
Interims support a remarkable Kenyan textile company to build its capacity to compete in the international fashion markets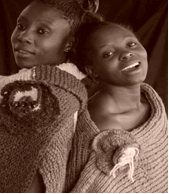 Kenana Knitters is a Kenyan company set up in 1998 to help the rural women of Njoro, Kenya to generate income from their spinning and knitting skills.  The group consists of over 180 women who buy locally produced homespun wool which they dye using natural plant-dye and knit into a range of toys and accessories for home sale and export.  The group generates two forms of income; buying the wool from almost 200 local families, then creating more work by turning the wool into a marketable product. 
To be competitive, the Knitters must produce new lines on a regular basis.  A key constraint for the company has been its limited access to trade journals and the internet, making it hard to achieve its full design potential. 
Through Interims for Development, Kenana Knitters were offered the services of Rehiat (Rea) Kabir, a textile designer skilled in accessory and textile design to work with them over a period of five weeks. 
The key objective was for the Interim to assist in developing new, marketable knitwear and accessories within the constraints of homespun wool, natural dyes and using the skills of rural women. Before leaving for Kenya, Rea undertook additional research funded by Interims to identify trends in toy and textile design.
Technical Assistance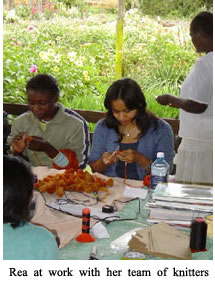 With additional financial support from Coats Viyella, Rea spent several weeks on the farm in Njoro working with the Knitters. "My brief was to assist the group with developing new design concepts, share information and resources regarding trends in the fashion industry and train members of the group in alternative techniques and approaches to their designs," explains Rea.
"Together with Caroline, my assistant, and five other knitters, we produced a range of knitted accessories for women's wear for Autumn/Winter 2005.  The collection was based on an experimental piece of crouching which proved less successful than they had hoped and which I decided to turn into sculptural scarves.  In terms of design, I was given complete freedom, which I found a positive challenge!"
Rea's expertise gained from her work at Liberty's of London, which caters for wealthy clients with an eye for non-mainstream fashion, proved invaluable to her host company.  From Rea's perspective, Kenana has much to offer its market.
"For the customer who appreciates experimental pieces, hand knitted products and also products which are naturally dyed, I feel Kenana Knitters have an edge on the rest of the current market", she says.  "In the next few years the consumer market will be exhausted with mass produced products and the average consumer will be more willing to spend their money on quality hand-knitted products." 
Learning was a two-way street as both Paddy and Sarah provided Rea with technical guidance in working with the sometimes unfamiliar materials to implement her new ideas.
Rea's assignment offers Kenana a longer-term networking contact for increasing their visibility and market share.  Based on her knowledge of the Knitters' work, Rea intends to continue opening doors for the group over the coming months.
"I will be showing the samples produced in Kenya to the Accessories Buyer at Liberty's in the next few months for selection for Autumn/Winter 2005 and also helping the group in any other way I can by sending design ideas or other contacts in the future."
Social Development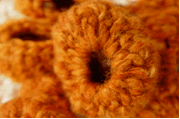 The Knitters have also become a source of social support in the region.  Funds generated by the group have been used to create a working area and to purchase storage and office facilities.
The group's ethos is to expand their knowledge base and skills and social development activities at the Farm include daily newspapers, a radio, library and sponsored attendance on training courses for HIV/AIDS counselling. The office computer is also used to teach touch typing and computer literacy.
The success of the Kenana Knitters would not have come about without the hard work and dedication of the company's Directors, Paddy Nightingale and Sarah Johnston.  In Rea's opinion, the two women are inspirational role models who take on responsibilities well beyond the call of duty. 
As Rea observes, "they are both amazing women.  Paddy gives medication to women with very sick babies even late at night." 
Coming from the often cut-throat ruthlessness of the international fashion industry, working in Africa has given Rea a different perspective. 
"Knowing that there are people out there who put something back into the community and work towards a better future has restored my faith in people.  Given the opportunity, I would love to go and work alongside Sarah and Paddy in the future."
From the company's perspective, Rea's assignment significantly met its objectives.  Citing Rea's skills in adapting the raw materials as well as her ability to motivate the Knitters, the Directors of the business have no doubt about the success of the assignment.
"Rea designed, produced and finished a range of functional yet fashionable accessories, using the resources available to her.  Her use of locally produced glass and beads as embellishment was most creative while her input with regard to high fashion influences has been very productive," says Sarah Johnston. 
Rea admits that "having never visited Africa, the only encounters I had with the continent have been from seeing images on the television and stories from friends.  Before my visit I didn't have any idea whether I would enjoy the project or not, and now I can wholeheartedly say I loved every part of the experience. Kenya is a beautiful country and full of creative people who use everyday materials around them to make extraordinary works of art."