Business skills training for Zimbabwean returnees
A two day workshop on 'Planning and Managing your Business' was held in Harare in February 2006 to equip recent returnees to Zimbabwe with skills and knowledge on how to plan and manage their businesses.
The training workshop was commissioned by IOM, a leading international organisation, to provide returnees with training on how to manage their new businesses, for which the IOM had provided financial assistance through the purchase of equipment and materials.
IOM, which works with migrants and governments to provide humane responses to migration challenges, has through its Voluntary Assisted Return and Reintegration Programme (VARRP), provided over 7,500 individuals and families with return and reintegration assistance.  The VARRP programme assists returnees with access to education, training, employment or setting up a small business.  In this way, individuals are given the tools to rebuild their lives back in their countries of origin and to sustain their return on a long-term basis.
Reintegration Challenges for Entrepreneurs
A survey undertaken by the IOM indicated that returnees were often unsure of reintegration activities that would best suit their needs upon return as they had spent a considerable time away from their homes, with some returnees expressing the need for business advice.  With high unemployment affecting the identification of jobs, many returnees felt that training would further enhance their chances of getting a job or generating income.
"Running a business in Africa is a challenge….. We are living in a global village and Africa is an important player."
The business environment has changed radically in Zimbabwe over recent years and the number of small and medium sized enterprises has increased at a rapid pace, leading to intense competition. For returnees to the country, particularly those without experience of running a business, understanding the business climate is critical to their survival.
'Planning and Managing your Business'
The training programme, developed by Human Resources and Training providers Interims for Development, was designed to equip the participants with key skills in business and financial management at a time when competition is at higher levels than ever before in Zimbabwe.
The participants, who represented a wide spectrum of businesses, including welding, hairdressing, manufacturing and Internet services, were led by Dorothy Adebanjo, Interims' Zimbabwean based Consultant and Trainer, through a number of steps; defining their business ideas clearly and concisely, taking stock of their various skills and identifying their strengths and areas for development. 
The programme, the first of four to be held in Zimbabwe, focused on working with the delegates to write and refine their business plans and understand how to cost their products and calculate their gross and net profits.  The importance of marketing and competitor analysis was highlighted, with additional training provided in financial management skills. 
Discussions were lively and participants shared their experiences and opinions of doing business ethically and dealing with external factors such as the country's high level of inflation. Through workshops, group learning and case studies, delegates were taken through information and advice on setting up a business, developing a business idea, identifying sources of finance and resourcing and promoting the business.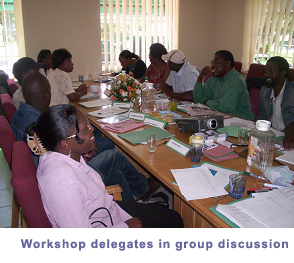 z
The training programmes will enable the IOM to provide returnees with a broad range of information, advice and tools for rebuilding their lives and promoting self-sufficiency through entrepreneurial activity. 
Speaking after the programme, Dorothy Adebanjo stressed the importance of such training.  "Running a business in Africa is a challenge as it is elsewhere and many people underestimate what it takes to run a business and to run it efficiently and professionally.  This programme helped to provide marketing, financial management skills as well as highlighting the personal qualities required by an individual to run a successful business.  We are living in a global village and Africa is an important player.  It was a thoroughly enjoyable experience for all involved."
Expressing her satisfaction with the outcome of the programme, Frances Williams, the CEO of Interims for Development, said. "We are delighted that the feedback from this, the first of four programmes, was so positive.  Setting up a business is never easy and when you have been away from your home country for some time, it is critical to assess carefully how to enter the market and what you will need to do to sustain your success.  This programme offers an excellent opportunity for participants to review their business planning and to share good practice."
Reflecting on the value of the programme, Mrs. Adebanjo said, 'As we closed the workshop, I heard one participant whisper to himself, "This came at exactly the right time for me. This is what I needed.  I can't believe it,… I have learnt so much…."