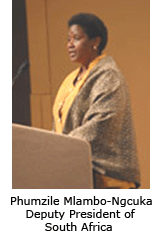 "The BPO sector is not just the flavour of the month, but one which will help to move South Africa further up the value chain," said Phumzile Mlambo-Ngcuka, South Africa's Deputy President, as the country launches a major bid to market South Africa as a destination for business process outsourcing.
South Africa House in London was the setting for a recent Forum on the expanding Business Process Outsourcing sector in South Africa. A high-powered delegation of BPO industry experts from South Africa, led by the Deputy President, Phumzile Mlambo-Ngcuka, presented industry leaders in London with a strong business case for outsourcing to South Africa.
Following a welcome address by H.E. Lindiwe Mabuza, the South African High Commissioner to the United Kingdom, South Africa's Minister of Trade and Industry, Mandisi Mpahlwa, presented a keynote address highlighting what he termed "South Africa's value proposition for business process outsourcing."
South Africa's Value Proposition
While acknowledging that it takes time for a developing country to develop a track record, he pointed out that South Africa has more than risen to the challenge.
"South Africa has the largest economy in Africa, the most industrial development on the continent and the most educational and training institutions," he said. "We have had 12 years of sound economic management and we have a growing economy which has yet to realize its full potential."
Speaking of the country's accelerated shared growth strategy, AsgiSA, the Minister noted that the BPO industry fits squarely within this context. South Africa already has a vibrant BPO industry with 70 operations and 80,000 people employed in contact centres and back offices. "We have a set of distinctive assets, a first call resolution higher than other lower cost destinations and a large, well-educated labour pool," he said.
"We produce 300,000 school leavers and 100,000 graduates a year from world class universities and we have a low budget deficit, sound infrastructure and the cheapest electricity prices in the world."
The Minister cited the benefits of South Africa's highly attractive lifestyle which has encouraged the immigration of diverse nationalities and communities, offering a range of language capabilities that benefit the BPO sector.  With mature and established institutions in the banking, insurance and telecommunications sectors, South Africa already has the sound business foundation needed for high value outsourcing opportunities.
"South Africa is not necessarily competing with the cheapest, but it is comparable with many operations in the UK and Europe," the Minister said.  "We can combine superior quality with high cost savings."
Government Incentives
Key factors in South Africa's favour for attracting business process outsourcing are its time zone, which falls comfortably within European time zones, as well as the country's English-language capacity.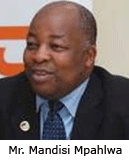 To boost the county's competitiveness in business process outsourcing, the South African government has recently developed a 5 year plan for the expansion of the sector.  Working closely with industry, the plan aims to strengthen the industry through financial incentives for investment and through deepening the talent pool and creating up to 100,000 jobs.
"Substantial training assistance, a skills development programme and a learnership scheme will be made available to companies that locate their operations in South Africa," said Mpahlwa. "Companies will get cash grants, tax deductions and the acquisition of work-ready talent."
The Minister acknowledged that the cost of telecommunications is regarded with concern by the sector, adding that deregulation and the promotion of competition is the way forward to achieve lower prices and that a R.30 billion investment in Telkom over the next 5 years plus a BPO dispensation on pricing is in the pipeline.
Case Studies
"South Africa is at the centre of IBM's new strategy," said Mteto Nyati, Director of Global Technology Services for IBM in South Africa, presenting a case study of his company's experience in offshoring to South Africa.
IBM has adopted a new business model, creating global shared services and centres of excellence in 7 strategic locations around the world, including South Africa, he said.
"South Africa is not a normal call centre but a highly technical environment where highly skilled people are managing complex IT issues," said Nyati.  The company is now moving many of the high value services it provides to its clients which include household names such as Boots and ABN Amro, to South Africa where it currently employs over 1,500 staff.
A case study by Shell highlighted the quality of service provided by its operations in South Africa."It's not about cost reduction but about finding good value – although there are also cost benefits," said Julian Davis, Shell's Programme Director for Global Customer Services.
BPO is not just the 'Flavour of the Month'
Deputy President Phumzile Mlambo-Ngcuka addressed the Forum and emphasized the Government's programme for "removing entry barriers that we, as Government, are responsible for."
"We have identified binding constraints and among the initiatives we have identified is the area of infrastructure; transport logistics and telecoms," she said.  "We are addressing the costs and ensuring that in 3-5 year, South Africa will not be the same place as today for these services."
The Deputy President pointed out that although South Africa has a population of 45 million, as a member of SADC, it offers access to a market of 200 million people. She reiterated the government's commitment to work with industry and to avoid 'stand-alone government', referring to the Business Trust that has been set up as a joint venture between government and industry.Government incentives will help with developing talent to increase access to the labour pool in urban and rural areas, she said, and will ensure that the country remains internationally competitive.
"BPO is not just the flavour of the month," she added, "but a sector which will help South Africa to move further up the value chain and become a knowledge economy."
Quality of Customer Experience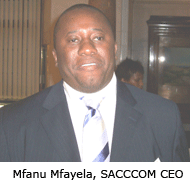 The Forum ended with a panel discussion and open question session. Describing the question of talent as "one of the key drivers of the economy", the Chief Director of Competitiveness Strategies in South Africa's Department of Trade and Industry, Dr Ray Ngcobo, highlighted the financial incentives on offer for talent development.
Ngcobo described the 'monyetla' 6-month work-readiness programme that matriculates and new graduates are being offered.  Companies that recruit from this pool of talent will also receive tax rebates and grants for company specific training.  Urging companies to take advantage of the current 'window of opportunity', he added that a one-off investment grant of between R. 37,000 and 60,000 was also on offer.
The CEO of SACCCOM, the apex organisation for South Africa's BPO sector, highlighted the quality offered by the South African workforce.  Mfanu Mfayela advised the delegates that in addition to a low attrition rate in the sector at around 11%, costs savings of about £11,000 per seat were possible in a company's first year of business even before considering the Government's incentives.