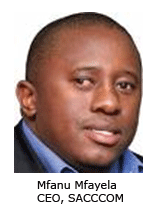 Outsourcing to South Africa has proved a success to those companies that have made the move. As the country positions itself for a major lift-off in this sector, ReConnect Africa speaks to Mfanu Mfayela of SACCCOM about what South Africa has to offer the international business community.
SACCCOM, The South African Contact Centre Community, is the association responsible for the development of the Business Process outsourcing (BPO) industry in South Africa.
Established in February 2005, SACCCOM is led by Mfayela, a former engineer. The organisation aims to increase public understanding around the South African offering and actively markets South Africa as a BPO destination to the Chief Executives and decision-making levels of overseas businesses.Continuous brand building is also focused around a range of events and exhibitions relating to the sector
Marketing South Africa
SACCCOM markets the South Africa story and the country's strong selling points for this industry sector; quality of service, similar time zones to the UK and Europe, developed infrastructure and the cultural affinity and the general knowledge and understanding of the UK and Europe by South Africans.
The global BPO industry looks set to grow by 50% a year over the next five years, resulting in growth estimated at between $90-100 billion. The UK is a key target market for SACCCOM's member companies, who are pitching themselves in competition against British outsourcing companies rather than positioning themselves directly in competition against India, where the standard and cost of living is quite different.
"We benchmark against Europe, not against India"
"We generally do our analysis and benchmarking against the UK itself," explains Mfanu Mfayela. "Even at double their current salaries, Indian salaries would only be equivalent to the basic level salary paid in South Africa as the cost of living in India is relatively low."
But given India's successful track record in business process outsourcing, what can South Africa learn from their success? Mfayela points out that rather than going through the same learning stages, South Africa has been able to work and build on India's experiences to be able to do things better.
"As an association, we share experiences with India and advise our members on how India's experiences can benefit them."
Skills and the Sector
But how does the highly publicized skills shortage in South Africa impact on the BPO sector?  Mfayela is confident that in most areas the country already has the talent needed.  "The only thing we need to develop is more managerial talent at both the strategic and operational levels, if the industry grows as quickly as we think it will," he says.
SACCCOM's members have taken the issue of training on board and, as companies roll out contracts, they often recruit overseas management for short periods to enable management skills to be acquired by and transferred to South African staff.  Over time, this training will create the pool of managerial talent needed to support the industry's expansion although, Mfayela admits, the need for international expertise does currently have an impact on the cost of contracts.
The South African Diaspora
South Africans living outside the country are of interest to SACCCOM's objectives in two key ways, according to Mfayela.
"Firstly, we need South Africans abroad to represent us and to talk positively about us within their companies," he says.  "Offshoring is mostly about perception and what someone thinks.  South Africans abroad are often highly placed within their companies and we want them to say 'Let's consider South Africa' when it comes to this area of business activity."
The skills of South Africans in the Diaspora are also a welcome source of support for the industry. The industry currently employs around 80,000 people and has about 600 operations in place.   "When deals come in, we want some of our skilled South Africans to come back and add value to the process," adds Mfayela.
The industry is already proving one of interest to the South African community overseas and SACCCOM forwards CVs sent to them by prospective applicants to their member companies for action. In some cases, returning South African talent has already made an impact. For example, a South African who had been based in the UK for ten years now runs The Carphone Warehouse Company in Cape Town.
SACCCOM has plans to provide added support to its members in the area of talent development and to signpost interested job applicants to its member companies via its website.
Challenges for the Sector
The BPO industry in South Africa faces some challenges, both local and international and Mfayela notes that the country needs to create a conducive environment for the sector.
"The countries we compete with give incentives", he says, citing the role of the Irish Government in promoting inward investment into Ireland. "Our challenge is to lobby government for acceptable incentives but our lobbying is bearing fruit."
The other major challenge for the sector is brand awareness.  Ensuring that brand South Africa is equated with quality of service delivery is a key plank in the BPO sector's strategy, says Mfayela.  "With increased brand awareness we can grow the industry and address socio-economic activities - and extend the sector beyond Johannesburg, Durban and Cape Town."
For further information about opportunities within the BPO sector in South Africa, contact info@sacccom.org.za