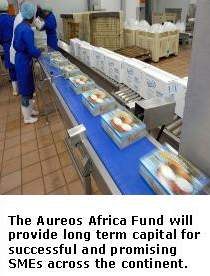 Aureos Capital has launched a new private equity fund in Africa to support small and medium enterprises and growth across the continent.
November saw the launch of a new private equity fund in Africa intended to support the growth of small and medium sized enterprises (SMEs) in Africa.
The Aureos Africa Fund will provide long term capital for successful and promising SMEs across the continent, targeting investments in sectors and countries where Aureos sees real potential for above average growth. Aureos, a private equity fund management company specializing in providing expansion and buy-out capital to unlisted businesses across emerging markets, worked closely with the Commonwealth Secretariat on the Fund.
To date, the Aureos Africa Fund has raised US$322.8 million and has already made nine investments totaling US$106.2 million.
The Commonwealth Secretariat, which represents 53 countries around the globe, has assisted the fund manager to raise a private equity fund for Africa targeting a US$400 million final close. To date, the Aureos Africa Fund has raised US$322.8 million and has already made nine investments totaling US$106.2 million across sectors including financial services, building products, real estate development and agri-business in 18 countries.
'Continued Investment is Essential'
In supporting the Aureos Africa Fund, the Commonwealth Secretariat has recognized that continued investment in Africa is essential, especially during the current economic slowdown, in order to prevent the gains made in Africa over recent years to be lost.
The Secretariat's relationship with Aureos, which specializes in investing in small to mid-sized businesses, dates back to 2005, when Commonwealth Finance Ministers approved an extension of the Commonwealth Private Investment Initiative, set up 10 years earlier to raise funds investment in development member countries.
The objective was to demonstrate that pre-emerging markets and small economies could offer attractive returns for private investors and it has helped to raise approximately US$800 million for investment in Africa, Asia, the Caribbean and the Pacific.
SMEs – Mainstays of African Economies
"There is no longer any debate about the role of the private sector in promoting development," said Ransford Smith, Deputy Secretary-General of the Commonwealth Secretariat, at the launch.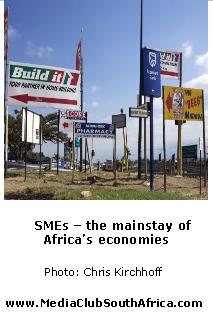 "Promoting investment in our member countries is a core activity of the Commonwealth Secretariat," he added. "The SME sector is the key target of the Fund and since 2005 we have concentrated on the SMEs as they represent the mainstay of economies."
The role of the Commonwealth Secretariat in the Fund, said the Deputy Secretary-General, is that of promoting investment through its relationship with Aureos.
"Investment promotes economic development, raises income levels and promotes prosperity, improving the well-being of our member states. But of course while our focus is on promoting investment through Aureos, we do not seek nor play any role in the commercial decisions of the funds."
The Aureos Africa Fund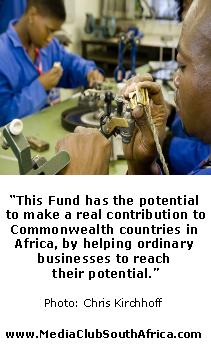 The Fund will seek to make investments of between US$2 million and US$10 million, focusing mainly on companies with the potential to build pan-African businesses. While it will be diversified, the Fund will have a primary focus on sectors that are expected to continue to experience rapid growth across areas such as logistics, construction, engineering and associated services and fast-moving consumer goods.
The Africa Fund closes in mid-December 2009 and has attracted a diverse investor base that includes international finance institutions, US-based private sector investors, European pension funds, family offices and commercial banks.
According to the Deputy Secretary-General, "this Fund has the potential to make a real contribution to Commonwealth countries in Africa, by helping ordinary businesses to reach their potential and boost much needed growth and jobs across the continent."
Profitable Growth Opportunities
"Africa has long been overlooked by institutional investors and small to mid-cap companies across the continent find it particularly hard to access equity investors, says Davinder Sikand, Regional Managing Director of Aureos in Africa. "The Aureos Africa Fund is an essential part of the effort to address that problem."
"Already the Fund has had considerable success in attracting first time investors into Africa," he adds. "They realize that there is vibrant economic activity across Africa, with profitable growth opportunities priced at very attractive multiples."
"This Fund will not only provide investee companies with the risk capital they need to expand, but also a high level of management support from Aureos' experienced locally based staff. We will be focusing on improving investee companies' governance, strategy, systems and recruitment and bringing access to other investors and lenders through Aureos' regional and global networks."
Top Photo: Rodger Bosch www.MediaClubSouthAfrica.com