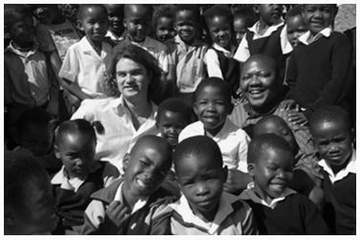 In 1999, Malizole Banks Gwaxula and Jacob Lief founded Ubuntu Education Fund with the goal of transforming the lives of the children of Port Elizabeth, South Africa.
One was a South African teacher from Port Elizabeth; the other an American graduate visiting South Africa to explore the country. Together, they discovered a shared passion for education and the power it has to change people's lives.
Seven Kilometres of Care
'Ubuntu', is probably best described by Archbishop Desmond Tutu when he said: 'We Africans speak of Ubuntu... what it means to be truly human, to know that you are bound up with others in the bundle of life, for a person is only a person through other people".
Banks invited Jacob, a travelling student, to live in his home as family and work with him as a teacher in his township school. In the townships, Jacob witnessed people overcoming the desperation of poverty through the power of community. Despite the lack of resources within the townships schools, say the founders, "children shared the few available desks and fewer chairs and listened attentively to their teachers for hours on end. For despite the immeasurable hardships, the communities remained dedicated to the belief that education would allow their children to overcome Apartheid's legacy of poverty, disease and inequality."
Six months after their meeting, Banks and Jacob founded Ubuntu Education Fund which, today, is reaching over 40,000 children with life-saving health and educational resources and services.
"Despite the immeasurable hardships, the communities remained dedicated to the belief that education would allow their children to overcome Apartheid's legacy of poverty, disease and inequality."
In the beginning, the focus of the organisation was on education and on providing computers, careers guidance, internet access and so on. Ignoring the traditional development models, they redefined the theory of "going to scale": rather than expanding geographically, Ubuntu drew a seven-kilometre radius around a community of 400,000 people.
Ubuntu created an integrated system of medical, health, educational, and social interventions that would ensure that a child who was either orphaned or vulnerable could, after several years, succeed in the worlds of education and employment.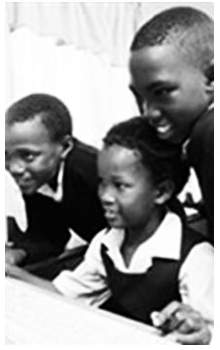 "Ubuntu works with children to get them into education and the world of work," says Kealy Prager, the organisation's UK-based Development Manager. "The young people are provided with life saving healthcare services and the educational tools they need to succeed while keeping healthy."
Why does Ubuntu work only within this community of 7 kilometres?
"We want to ensure that a holistic approach is applied and that there is a deep and focused commitment to a group of children," says Prager.
"This focus enables us to tunnel down into the community and you can really see the change. In 11 years, 136 students are now in university and just this year, another 25 have gone to university, so the model of remaining focused has worked well."
'I am because you are'
The programme pioneered by the Ubuntu Education Fund is split into different streams. A prevention outreach team encourages children and young adults to come forward and be tested so that they know and can manage their HIV status.
"Hundreds of people die from HIV/AIDS every day without knowing their status," says Veliswa Jontana, an HIVE Prevention Team Leader. "Our goal is to make people aware and help keep more of them from dying."
The organisation tries to stabilise the household by working with the family and with an individual's siblings to smooth their pathway. If an individual needs to get medication, they can do so and still live positively.
Ubuntu also has a care and support team that helps young adults, who are often heads of families. The team looks at how a child can still go to school; providing nutrition packages, electricity and, if necessary, security to enable them to study and to stay in school.
"Only when we begin treating the whole person, as opposed to just HIV, do we start to make a real difference", says Zanele Virginia Foley, one of Ubuntu's Clinical Service nurses.
The Fund also has a clinical aspect which supports young people who have tested positive for the HIV virus to get and stay on the required medication.
Education for Empowerment
"Empowerment is the end goal," says Prager. "We try to prepare them for education at a young age through after school programmes, holiday camps and, in this way, we keep the children in school and occupied during holidays. Poetry, dance and other activities also help them to express their feelings"
Ubuntu aims to change negative mindsets and the organisation's 'Men as Partners' programme was set up to encourage men to support the women in their lives, whether through medication or through behaviour.
The Fund's staff of 80 are all from the community, a powerful factor in their ability to go out and have conversations with their people and to challenge any negative cultural norms and behaviours.
"This focus enables us to tunnel down into the community and you can really see the change. In 11 years, 136 students are now in university."
With fundraising offices in London and New York, Ubuntu has been fortunate in attracting financial support from individual backers, corporations, families and ordinary individuals, as well as South African grants from PEPFAR which funds the medication for the clinics.
The London office, which opened in 2008, undertakes outreach at grassroots level to spread the word about Ubuntu and the organisation's philosophy and to raise funds through events ranging from gala dinners to sponsorship and support from schools.
Footprints of the People
July 2010 will see the opening of the Ubuntu Centre, a 20,000 square ft. medical and educational facility in Zwide. The centre has a unique design and flows as an illustration of the spirit of mutuality and support, reflecting the pathway a child takes through their journey into success.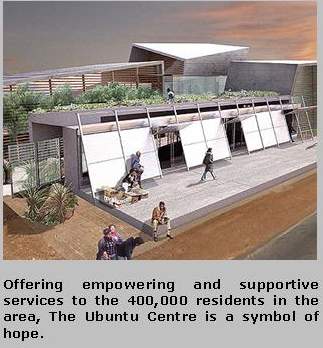 Architects Stan and Jess Field donated their time to design the centre, where the pathways run through the building and converge inside the Ubuntu centre.
"These pathways really represent the footprints of the people in this beautiful red African ground. It's a real combination of science and art."
The following link shows the Ubuntu Centre in the making:
www.youtube.com/user/ubuntufund#p/a/u/0/MgfoIKp50Cw
Global Recognition
The unique approach of the Ubuntu Education Fund has received global recognition.
In 2006 and 2008, Ubuntu Education Fund was recognized by the Schwab Foundation for Social Entrepreneurship as one of South Africa's top NGOs.
At the World Economic Forum in March 2010, Jacob Lief, Founder and President of Ubuntu Education Fund, was recognized as a Young Global Leader.
This honour is bestowed by the World Economic Forum each year to recognize the most distinguished young leaders below the age of 40 from around the world. Lief is now part of a group of 197 individuals from 72 countries (all under the age of 40), who have been chosen because of their leadership in sectors such as business, civil society, social entrepreneurship, politics, arts and culture and media.
Lief was also recently accepted into The Aspen Institute's African Leadership Initiative, which encourages the emerging generation of African leaders to invest their energies in the foremost challenges of their countries and times.
For Lief, these accolades serve an important purpose. "It is a recognition that Ubuntu's model is working and a reminder to the world that it takes more than a cup of soup to change a child's life. If we are going to break the cycles of poverty in Africa we must truly invest in Africa's children in the same way that we invest in our own."