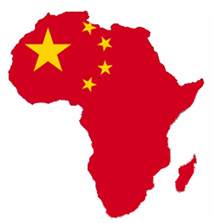 Will China, the savvy superpower, become the new champion of Africa's interests? John Battersby explores the shift in relations between Africa and its traditional allies.
China, firmly established as champion of Africa and the developing world, is set to move centre-stage in forging a new global architecture for development, trade and combating climate change.
This was the broad consensus at the China Development Forum held at the London School of Economics over the weekend focussing on how the economic rise of China was impacting on the global economy.
"I think we will be hearing more about the Beijing consensus and less about the Washington consensus," said Amir Dossal, former director of partnerships at the United Nations.
"You could say that the focus has shifted from Washington to Beijing."
China and Africa
Last week China overtook the World Bank as the largest lender to developing countries. China is already the largest provider of development assistance to Africa. Earlier this year it became the world's second largest economy after the United States and overtook Germany to become South Africa's largest trading partner.
Liu Xiaoming, the Chinese Ambassador to the UK, said that China wanted to make an "important contribution to world order".
He said that with the improvements in the Chinese economy China was in a better position to provide more help to African countries.
"I think we will be hearing more about the Beijing consensus and less about the Washington consensus."
The ambassador said that China had very good relations with African countries and cited as evidence the recent decision by the BRIC group of nations (Brazil, Russia, India and China), to invite South Africa to join as the fifth member.
"We attach a lot of importance to South Africa's role in Africa as well as its role in the global sphere," the ambassador said.
"The BRICS summit would meet soon to discuss a common agenda for development," he said adding that South Africa would have an increasingly important role in BRICS, as the grouping will now be known with the addition of South Africa.
The former senior UN official, Amir Dossal, noted that China's development assistance to Africa countries as well as its investment in and trade with the continent had made a massive 60% contribution to overall poverty alleviation in Africa.
China's own achievement in lifting some 200 million of its own citizens out of poverty was also an inspiration to the developing world and to the UN's Millennium Development Goals (MDG's) to reduce poverty in Africa and the developing world by half by 2014.
Edward Brown, a Ghanaian who heads the African Centre for Economic Transformation in Accra, said that African countries faced a major challenge in finding the most effective way to structure the relationship with China to ensure that they could maximise their potential.
A Long-term Strategy for China
Brown said that African countries needed a long-term strategy and public policy to develop more value-added manufacturing activities.
He said that despite the advantages of engaging with China, there was very little value being added in the mining and extractive sector which saw the highest proportion of Chinese investment.
In some African countries, China provided between 50% and 80% of the work force which also presented a problem in countries with high unemployment.
Even in the manufacturing sector there was low added value while there were fears that Chinese investors were crowding out local ones.
Dossal said that when the Chinese offered concessionary loans to African governments the terms might not be as competitive as they were in the global financial markets but the Chinese were delivering on their commitments on time with infrastructure programs which otherwise might not have been achieved with the global market loans.
The LSE Forum followed the successful State visit to the United States last week of Chinese President Hu Jintao who used the visit to acknowledge the need for China to address human rights issues.
There was also a meeting of minds with US President Barack Obama on the vital role of the world's two largest economies in combating climate change.
Speakers at the LSE conference noted the dramatic change in China's attitude to international co-operation in combating climate change from its non-co-operational approach two decades ago.
"China initially refused to commit to any reduction in emissions or joint implementation of climate change commitments," said Elizabeth Economy, director of Asia studies at the US-based Council of Foreign Relations.
She said that China had now committed to decrease carbon intensity by 2020 by as much as 45%, was considering international monitoring of targets and had been the largest recipient of Clean Development Mechanisms (CDM's) projects in the world.
"This is a dramatic transformation from 20 years ago," Economy said.
But she added that China still faced major challenges in terms of governance implementation and compliance with data reporting norms.
"For China to be a responsible player it will require a fundamental transformation of government structures," she said.
The next climate change meeting (COP17) is due to take place in Durban in November and there is general sense of optimism that it will reach a global consensus on the issue of emissions to follow the Kyoto Protocol which neither the United States or China, two largest contributors of emissions, signed.
In some African countries, China provided between 50% and 80% of the work force which also presented a problem in countries with high unemployment.
Frank-Jurgen Richter, chairman of an international sustainability think-tank and adviser to governments, said that China was "quite serious" about climate change.
He said that while Copenhagen (COP15) had not been a success, last year's climate change meeting in Mexico (COP16) had been successful and the Chinese had played an important role.
He said the idea of a "Beijing consensus" still had a while to go.
"China does not want to be seen controlling the world," he said.
"I think you can expect less of Machiavelli and more of Confucius," he said, referring to the emphasis on harmony and order in the writings of China's most famous philosopher as opposed to the skilful manipulation of the Italian master.
While China faces major challenges in areas such as innovation and normalising intellectual property rights, and integration in the global financial system, there was a general consensus at the forum that the world's future was now inextricably interlinked with that of China.
But China's emergence as a super power is unlikely to follow the script of history. There is a Chinese proverb that warns of the consequences of sticking your head too far above the parapets.
"The gun shoots the bird that sticks its head out" is a literal translation of the original version.
"China does not want to be number one," said Dossal. "They know that once you reach the top spot there is only one way you can go from there."
Speakers noted that the future was by no means certain. It was predicted that the country would build 70 more cities of 10-million people or more in the next few decades and that the next 15 years would see 50 000 skyscrapers built in Chinese cities.
"China's main challenge will be to balance its growth, on the one hand, and its social and demographic pressures on the other hand." said Dossal.
"If China goes wrong, the world goes wrong," he said.
John Battersby is the UK Country Manager of the International Marketing Council of South Africa. He is a former editor of The Sunday Independent in Johannesburg and co-author of 'Nelson Mandela: A Life in Photographs'.