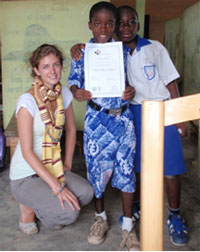 How one gap year student's stay in Ghana helped to spread the message of health and safety – and changed her life.
When 21-year old Madeleine Wright undertook a one-day health and safety training course in Hammersmith, London, run by the British Safety Council, she had little idea of the impact this would make on her life - and on others.
Founded in 1957, and operating in over 50 countries, the British Safety Council (BSC) is one of the world's leading independent authorities on occupational health and safety. As a registered charity with a global network of 8,000 members and subscribers, the BSC provides information, audits, expert training and qualifications, all designed to promote a healthier, safer and more sustainable society, and in the longer term, to influence these agendas on the worldwide stage.
Health and Safety at Work
Now, thanks to a ground breaking initiative by the BSC, 120 children in Ghana have received vital health and safety awareness training.
Earlier in 2009, the BSC trained a group of Gap Year students so that they could not only look after their own health and safety while abroad, but could also spread the health and safety message to children in some of the world's poorest regions.
The twelve students spent a day in the BSC's new Learning Zone in Hammersmith gaining the Level 1 Certificate in Health and Safety at Work and discussing how basic hazard awareness could be delivered to young people in developing countries.
Sharing Safety Strategies in Ghana
The first student from the first group, 21-year-old Madeleine Wright from Whitley Bay, an Honours graduate in Medical Anthropology from the University of Durham, has now returned to Britain having undertaken a voluntary placement in Ghana.
As part of her Gap Year Madeleine spent three months on a teaching and care placement at three schools in Ghana, organised by Projects Abroad. Upon arrival at the Voice Preparatory School in Koforidua, Madeleine quickly spotted an opportunity to share her training to help improve work and safety at the school.
"I found that safety was not a priority," she said. "There were broken chairs and tables, but there was no one to fix them. The playground was full of stones and broken glass and many of the children would play outside with no shoes on."
Using the knowledge gained from her Level 1 qualification, Madeleine prepared a workbook for the children and used a variety of techniques to get her message across including hazard spotting exercises, posters and group discussions. She also prepared an end of term health and safety exam which 45 children successfully passed.
Empowering Children to Improve Safety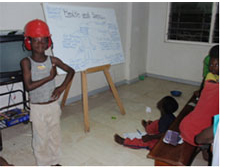 "I felt it was important to allow the children to think for themselves and not to talk at them," said Madeleine.
"The children had never experienced anything like it. For example, when I showed them a first aid kit, they didn't know what it was and thought it was a pencil case!"
Eleven-year-old Paapa said: "It was useful to learn about why we should wear gloves, boots and a helmet, and how they protect different parts of my body. My mother was very pleased and she has kept my certificate for me because it will help me in the future."
Classmate Matilda agreed, saying: "I think all children should learn about health and safety at school because it is useful for everyone and will lead us to a better future."
The lessons were a great success and were warmly welcomed by the school's headmistress, Grandma Adelaide.
"It has been very successful and hopefully the children will practice what they've learned. We have health and safety problems in the town so it's good that Madeleine has come to educate the children. We need more volunteers and teachers to come. It will benefit the whole community."
Madeleine also spent a month teaching children aged nine to 19 at Osu Children's home in Accra where she ran two or three evening sessions a week before introducing health and safety to 40 boys aged nine to 12 at the Cantonments Football Academy.
"We need more volunteers and teachers to come. It will benefit the whole community."
Madeleine planned and delivered practical sessions on four main topics: health and safety in football, first aid, safety signs and fire safety. Upon successful completion of the course, the children were each presented with a British Safety Council certificate.
Academy coach Primus said: "The children really enjoyed it. One of the boys even slept with his certificate under his pillow because he didn't want to lose it."
The Start of Something of Huge Benefit
Madeleine has learned a lot from her experiences in Ghana and is hoping that other Gap Year students will follow her lead.
"The BSC training really helped me to teach basic health and safety to the children and with the incredibly positive response from the staff, students and parents. I believe this is the start of something of huge benefit for young people in Ghana and other countries."
Madeleine now feels so passionate about health and safety that she has decided to do an MSc in International Health Policy and will embark on her Masters degree at the London School of Economics and Political Science in October.
With Madeleine as one of the first 'graduates' of its programme, the British Safety Council is delighted with the results.
As the BSC's project manager Sebastian Tarnowski commented, "As well as reaching out to children in developing countries, this project gives people like Madeleine - business leaders of the future - a better understanding of health and safety issues in the workplace."