The Tanzania Trade Centre speaks to ReConnect Africa on investment opportunities through Tourism
Based in the heart of London, the Tanzania Trade Centre plays a strategic role in promoting Tanzania as a tourist and investment destination. The Centre is the trade gateway to Tanzania, acting as an agency for the Tanzanian government's efforts to boost inward investment.
Thomas Sembeye, the Centre's Information and Communications Manager, plays a key role in fulfilling this mission. Speaking to ReConnect Africa, Sembeye outlined the Centre's focus.
"If you have ideas for investment in Tanzania, we guide you to the proper channels and help you achieve your targets and goals as early as possible", he explains. "We can help you register a business and establish which licences are needed for Tanzania, depending on which sector your want to invest in. We can also advise on visa and work permit issues."
Tourism for Investment
The Director of the Trade Centre, Mr. Yusuf Kashangwa, is a passionate proponent of his country. "Tanzania is a great country and it is our job to communicate this," he says. "We provide information on how to settle in Tanzania and establish business links with the country."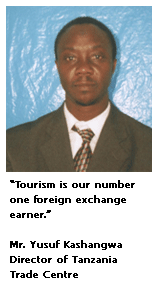 Tanzania has the biggest land area among the East African countries with a spectacular landscape of three regions; the Islands and the coastal plains to the east; the inland saucer-shaped plateau; and the highlands. The Great Rift Valley that runs from north east of Africa through central Tanzania is another landmark that adds to the scenic view of the country. The country has the largest concentration of wild animals and is home to world famous National Parks and Game Reserves. It also has sandy beaches and Africa's highest and snow-capped mountain, Mt. Kilimanjaro.
Tourism is increasingly significant to the Tanzanian economy. The country is seen as safe and politically stable and has seen an influx of tourists from Europe, the US and Scandinavia.
"Tourism is our number one foreign exchange earner," says Kashangwa. "Tanzania is a huge country. It is not just Zanzibar and Kilimanjaro - the rest of the country has a lot of attractions."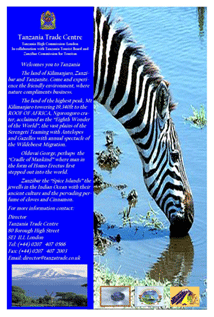 The sheer size of the country means that it is able to offer an abundance of natural resources and tourist attractions. "We have everything in one place", says Kashangwa. "800 km of coastline with pristine sands and crystal clear water. If you are fond of mountains; we have lots. If you want wildlife, we have millions – Serengeti and three fresh water lakes. And we have our own tanzanite, a gemstone exclusive to Tanzania."
As a source of employment and foreign exchange as well as a stepping stone to investment, tourism has become a vital part of Tanzania's investment strategy.
"One of our key goals is to promote tourism for Tanzania and act as the Tanzanian Tourist Board" says Thomas Sembeye. "In this capacity, we provide information and brochures on tourism and exhibit in tourism exhibitions."
"Tourism helps also to highlight investment opportunities and a number of people who visit as tourists then come to us to discuss investing e.g. building hotels, camps and we work with them to help them implement their ideas."
Tanzanite Account
In common with many African countries, Tanzania has seen its share of skilled professionals leave the country in recent decades. With particularly significant losses from the health and education sectors, key skills needed for the country's development have moved to neighbouring countries and further afield, impacting severely on already limited resources in these sectors.
The Government today is encouraging people to return and to contribute their efforts to developing the country. By improving the working environment in the public and private sector and increasing salaries across some of the key areas - doctors were recently given a pay rise – the government hopes to attract some of its lost skills back into the country.
Other sectors are adopting new approaches to harnessing the benefits available from migrating Tanzanians. Three years ago, the Tanzanian CRDB Bank launched a special Tanzanite account for non resident Tanzanians. The Tanzanite account is a savings account designated for Tanzanians who, while abroad, are able to save a portion of their income to meet local family obligations or for investment purposes.
The account can be opened and operated in the major foreign currencies and earns interest above the standard rate applied to domestic savings accounts. The Tanzanite account offers a secure way for Tanzanians abroad to save money at home, benefit from increased interest rates and know that their savings are contributing to national development. Deposits made in hard currency deposits can also be withdrawn in hard currency, eliminating the risk of loss on currency exchange.
Sectors for Investment
The United Republic of Tanzania was formed in 1964 out of the union of two sovereign states, Tanganyika and Zanzibar. The Government of Tanzania is a unitary republic consisting of the Union Government and the Zanzibar Revolutionary Government. With 34 million people, Tanzania has a diverse culture of more than 120 tribes, each with its own vernacular, but it is a country where people live harmoniously. Swahili is the lingua franca and English is the official business language.

Dar es Salaam, the country's commercial capital and major sea port for mainland Tanzania also serves the neighbouring land-locked countries of Malawi, Zambia, Burundi, Rwanda, and Uganda, as well as Eastern DRC. Its geographical location gives Dar es Salaam Port the advantage as a gateway into East and Central Africa, making Tanzania as a strategic destination for investors.
Since its independence, Tanzania has successfully held general elections and the current President, Jakaya Mrisho Kikwete took office in 2005. The country has enjoyed political stability and the Tanzanian Government has declared its commitment to sound, consistent and predictable macro-economic policies, promoting good governance and private sector development.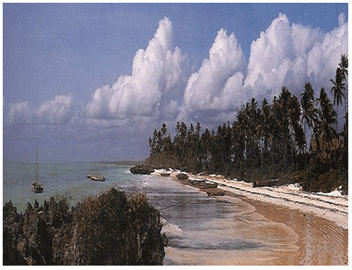 While there are investment opportunities in almost every area, tourism and mining stand out as prime sectors. Agriculture, a key part of the Tanzanian economy, also offers opportunities for investment. To support the country's efforts to promote agricultural private investment based on an improved regulatory and policy environment, the World Bank has recently approved a $90 million agricultural credit facility. This will also enable farmers to have better access to and use of agricultural knowledge, technologies, marketing systems and infrastructure, all of which contribute to higher productivity, profitability, and farm incomes.
Tanzania's tax system is designed to give incentives, such as tax holidays, to new investors coming into the country. The Trade Centre has managed to bring a significant number of investors into Tanzania since they were set up under the Tanzania High Commission.
"I do encourage people to come and visit us," says Sembeye. "However small their enquiry, we can start from somewhere and go anywhere. Any ideas about investing in Tanzania are welcome."
For further enquiries about Tanzania: www.tanzatrade.co.uk