Moving Mauritius Forward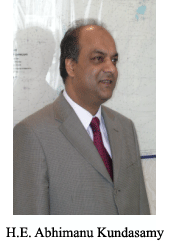 With a population of approximately 1.2 million, Mauritius 'the Star and Key of the Indian Ocean' is a stable African democracy that has successfully achieved a literacy rate of 82.9% among its citizens. 
In this exclusive interview, ReConnect Africa speaks to H.E. Abhimanu Kundasamy, High Commissioner for Mauritius to the United Kingdom, and asks how Mauritius is tackling the challenges of global trade and promoting investment.
RCA: Your Excellency, Mauritius has been able to maintain a stable democracy with regular elections and a positive human rights record. What lessons can your country offer to the rest of Africa?
AK: Indeed democratic principles, respect for human rights, civil liberties, respect for the rule of law, free and fair elections are all well entrenched in our constitution. We not only believe in these sacrosanct values but also respect them both in letter and spirit. On our independence in 1968, inspired by many great statesmen of his time, the first Prime Minister of Mauritius and the father of our nation Sir Seewoosagur Ramgoolam embraced democracy as the way of governance. Let me take you to what Robert Rotberg, President of the World Peace Foundation and Director of the Program on Intrastate Conflict at Harvard University's JFK School of Government had to say about Mauritius and the strategic choices that the father of the nation made at the time of our independence. "When Sir Seewoosagur took the Mauritian prime ministerial reins in 1968 immediately after independence in 1968, he understood that the island's mélange of colours and peoples…could not long survive in peace if he and others were anything but transparently democratic. He stressed open politics, nurtured social capital, welcomed a free press, and strengthened the rule of law inherited from Britain, and earlier from France".
In the case of Mauritius, with a vibrant democracy, the respect for human rights and the rule of law, came social and political stability. The latter were the prime factors that contributed to our economic development over all these years. A peaceful, politically stable country is more likely to attract foreign direct investment. Such a country will offer better prospects for economic growth and development. Democratic principles, respect for human rights and the rule of law also bring along the notions of accountability, good governance and sound social policies.  
When it comes to democracy in Africa, I am convinced that, with the exception of a few, most countries have now embraced democratic values compared to what the situation was two decades ago. Today, we have fewer autocratic or kleptocratic regimes operating in Africa and I must say that this augurs very well for the continent.

I must also add that Mauritius was recently elected to the United Nations Human Rights Council with 178 votes and this in itself speaks volume of our visibility, commitment and contribution in advancing the cause of human rights.
RCA: Mauritius has attracted considerable foreign investment and has one of Africa's highest per capita incomes. What will be the key challenges for the country to keep the economy growing?
 
AK: Today, in this increasingly globalised world where new trade rules are shaping the global economic agenda, it is obvious that for a country like Mauritius there will be some key challenges ahead in order to keep our economy growing.
"Government is committed to make the country as much investor-friendly as possible. There are a host of measures that are in place to encourage foreign investors".
Presently, Mauritius is facing several adversities and the vulnerability of a small economy like Mauritius is becoming more and more evident at a time when the concept of trade preferences is taking a back seat. Mauritius is facing a drastic cut in sugar prices due to the reform of the EU sugar regime, our textile products are subject to immense competition and the economic problem is further compounded by the high price of petroleum products. Against this backdrop, it is important that we take the right policy decisions in order to build greater economic resilience and sustain economic growth.
Hence, we need to further diversify our economy and stimulate employment creation, facilitate investment, make our products more competitive on the international market, ensure that our sugar industry is more competitive and remains a cost effective supplier to the EU market and also cut down on public expenditure. And this is what precisely the Government of Mauritius is committed to do and is doing.
RCA: In common with the rest of the continent, enterprise development is a key issue for Mauritius. What strategies are being adopted to encourage business development, particularly SME businesses? 
AK: As our Deputy Prime Minister and Minister of Finance Hon R. Sithanen has mentioned, SMEs have a fundamental role in our vision of making Mauritius a dynamic and entrepreneurial economy. What the Government wants is the emergence of an entrepreneurial nation that will fully participate in the mainstream economic activities. Last year Government announced a number of measures to encourage SMEs. These new measures will give SMEs a new impetus. Some of the measures are:
consultancy services to be provided to SMEs for them to look into the possibility of upgrading and making their products more competitive
lowering of the cost of finance to micro-enterprises and SMEs
setting up an Empowerment Fund to support SMEs.  The Fund to be used to advance both debt and equity finance to SMEs on flexible terms, with the added services of mentoring and close follow up of their projects.
better physical infrastructure for SMEs hence the construction of industrial estates for SMEs.
RCA: Which sectors offer future growth in Mauritius and what procedures are in place to encourage investors into the country?
AK: Government has charted out a road map for strengthening our economic base while exploring new areas of economic activity. We believe that Mauritius has the potential to develop a vibrant seafood industry and already this year, Mauritius hosted an international Seafood Conference which saw the participation of major foreign operators from that sector.
"We want our tourism industry to become one of the main engines of economic growth…we are targeting around 1.5 million tourists in the next few years."
We want our tourism industry to become one of the main engines of economic growth in both the short and medium terms and we are targeting around 1.5 million tourists in the next few years. We are also diversifying the products that the tourism industry can offer. The ICT sector is very promising and already there are measures put in place to make this an important pillar of our economy. Mauritius is also aiming at making the country a major Centre of Excellence.
Government is committed to make the country as investor-friendly as possible. There are a host of measures that are in place to encourage foreign investors. Let me name a few. We are tackling the problem of red tape which chokes investment and frustrates investors. The Prime Minister is personally chairing a Fast Track Committee to coordinate and speed up decisions on major investments.