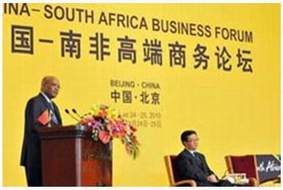 South Africa is set to benefit in the next 10 to 15 years from major investment in infrastructure and manufacturing from the BRICS – Brazil, Russia, India, China - which represent 42 percent of the world's population and 18 percent of its GDP.
John Battersby
and
Yingni Lu
explore the real implications of the new grouping for Africa.
South Africa's invitation to join the group last September – and its high-profile inclusion at a well-orchestrated summit in Beijing in mid-April - has put South Africa in the league of the world's fastest-growing and potentially most influential group of nations.
The four founding BRICS differ widely in their economic indicators and demographics but they all share a need to see a successful conclusion of the Doha round and the removal of barriers between the BRICS themselves to promote more open trade and investment.
South Africa's inclusion is recognition of its strategic role in Africa and its ability to act as an interlocutor between Africa and the international community rather than because of its population or GDP.
'BRICS – The Next 'Big Thing'
The BRICS – the sobriquet coined in the aftershock of the 9/11 attack on the World Trade Centre by Goldman Sachs banker Jim O'Neill in search for the next "big thing" – have gained a momentum of their own in the past decade which means that in addition to reflecting the changing global economic landscape, they are playing an increasing role in shaping it.
South Africa's inclusion is recognition of its strategic role in Africa and its ability to act as an interlocutor between Africa and the international community.
The recent united insistence by the BRICS that the next chair of the International Monetary Fund should be chosen on competence alone rather than according to a region, indicates a political maturity. It is the first time that a group of developing nations has put pressure on a leading international organisation to select a chief executive who reflects the increasing importance of emerging markets in the global economy.
The rising power of the BRICS lobby holds potentially far-reaching consequences for the relationship between China and Africa in general and between South Africa and China in particular and is likely to have a profound impact on China's rapidly growing trade and investment relationship with South Africa.
President Jacob Zuma has worked strategically to build the relationship with China and argued persuasively for Africa's inclusion in the BRICS group through South Africa's membership. He has already paid a state visit to China, hosted President Hu Jintao in South Africa and attended the BRICS summit in Beijing in April.
For Zuma, it is not a question of South Africa boxing above its weight. It is just basic logic that a continent central to sustainable global growth should be included in the club and Zuma has already overseen a rapid deepening of South Africa's relationship with China.
South Africa and China
Zuma's leadership stands to win major contracts for South African companies and para-statal corporations in developing African infrastructure in what has become the world's third-fastest growing market after China and India. Africa grew at 4.5 percent last year and is expected to reach 5.2 percent this year. South Africa is set for a more modest 4 percent.
South Africa is also a benefactor of better access to BRICS markets and, at the same time, it is a competitor or joint venture partner in the development of Africa.
Aware of the massive savings pool that China and other BRICS nations are sitting on, Zuma is inviting investors from BRICS countries to take up the major infrastructure and manufacturing opportunities in South Africa and on the African continent. Both the private and public sectors of the country stand to be leading beneficiaries of this offer.
The BRICS have decided in principle to establish mutual credit lines denominated in local currencies rather than US dollars, a move that is seen to promote cooperation between countries over a wide range of projects, and has proven to be able to facilitate trade and investment between these countries.
Zuma's leadership stands to win major contracts for South African companies and para-statal corporations in developing African infrastructure.
Such arrangements are already working to the mutual benefit of China and Brazil which has deepened China's relationship with Brazil's state-owned oil company, Petrobras.
Recently, China Development Bank's Chairman Chen Yuan has said that the bank is prepared to lend up to $1.5-bn in local currency to fellow BRICS, in particular, for oil and gas projects.
Last year Zuma was appointed to head the African Union's high-level sub-committee on infrastructure which will oversee an estimated $480-bn of infrastructure investment on the continent in the next decade. But Zuma's influence will extend far beyond infrastructure into the vital areas of food production and environment.
The realpolitik of the situation is that the bulk of this work is likely to be awarded to China, South Africa and other BRICS.
With South Africa serving its second term as a non-permanent member of the UN Security Council and Zuma's appointment as co-chair of the COP-17 Climate Change Summit to be held in Durban in December, the South African President is well-placed to help forge a grand trade-off between the industrialised and developing worlds.
If South Africa can help broker a breakthrough in the global trade-off between environment and development it could give a much-needed boost to South Africa's own renewable energy and clean technology industries. This COP 17 will have made major progress by establishing either a reformed global market mechanism to regulate emissions or by extending the current one to include the United States and China.
Climate Change and Regional Integration
China, both because of necessity and its history of pragmatic adjustment, is well-placed to become the world leader in developing cleaner and more sustainable technologies which will supplement and ultimately replace fossil fuels as the world's primary source of energy. South Africa is ideally placed to contribute to this global priority.
After hosting the World Summit on Sustainable Development in 2002 and more recently committing to the Clean Development Mechanism, South Africa has vowed to reach its targets on reducing emissions and carbon management. But in a country with high unemployment and underdevelopment, it has to continually weigh the dictates of environmental management with those of developmental priorities.
As the pace of regional integration within the Southern African Development Community (SADC) quickens – a goal that Zuma has put at the top of his priorities list – the economic rewards for South Africa will come in the form of increased foreign direct investment and expanding trade relations.
The evolving free trade agreement between the overlapping regional economic communities of SADC, the Common Market of East and Southern Africa (COMESA) and the East African Community (EAC) is likely to give further impetus to this process.
South Africa is already thinking BRICS. It is upgrading flight connections and tourism offerings to the BRICS nations as well as tailoring investment opportunities and conditions to meet the requirements of its new-found strategic partners.
Access to High-Growth Developing Economies
President Zuma has pointed out that South Africa's membership of BRICS will open access to the markets of the world's high-growth developing economies as well as heralding new and exciting opportunities for South African companies to develop new business and partnerships.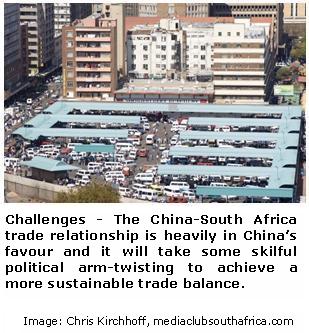 South Africa's robust private sector is gradually waking up to these opportunities and some – such as Standard Bank – were ahead of the game when they sold 20 percent of the bank to International Commercial Bank of China three years ago in what was China's largest-ever foreign investment at the time.
Since then, several key Chinese companies have opened offices in the country and Beijing has located the Africa headquarters of the China-Africa Development Fund in Johannesburg.
BRICS, with Africa now represented in "the club", will deepen south-south co-operation and have the potential to change the game rules of international finance and trade and give a voice to developing countries on a whole range of issues ranging from climate change to development.
The main priority of the BRICS is to ensure that the Doha round is completed and that the industrialised countries scrap subsidies and protectionist measures to allow the developing world better access to global markets. Such a move would boost the level of international trade although it would shift the balance towards the markets of the south and THE east. This shift is already taking place and will gain momentum but an orderly transition via the WTO would be less disruptive.
Africa is set to achieve growth levels which will empower its 1-billion citizens and enable the continent to elevate millions from poverty as China has done for some 400-million poor in the past 30 years.
South Africa's inclusion in the BRICS in December last year, largely as a result of strong lobbying by China, came as a surprise to many – not least to O'Neill who argued that countries such as Indonesia, Turkey and South Korea were far stronger contenders. But such notions underestimate South Africa's strategic importance to Africa, China and the industrialised world and its unique potential in acting as a bridge between them.
South Africa will continue with its membership of the trilateral commission comprising India, Brazil and South Africa (IBSA) as well as its key membership of the G20 group of nations.
But there are hurdles on the road ahead.
The China-South Africa trade relationship is heavily in China's favour and it will take some skilful political arm-twisting to achieve a more sustainable trade balance by getting the Chinese engaged in more joint ventures, manufacturing and beneficiation in line with the country's recently released economic road-map, the National Growth Path, which seeks to ensure more leave-behind from foreign investors.
Despite China's position as South Africa's biggest two-way trade partner based on South African exports of mineral resources, the European Union remains South Africa's most important export market and responsible for 40% of foreign investment. But it is probably inevitable in the medium to long-term that China will become a more important export market for South African goods.
While the United States is set to remain by far the most powerful global economy in the next two decades, the changes now underway and symbolised by the BRICS group will prepare the ground for profound changes in the global order in the next 20 to 25 years.
South Africa and China – and the other BRIC nations – will be key players in the forging of a more interdependent, sustainable and equitable world.
John Battersby is UK Country Manager of the International Marketing Council of South Africa. Yingni Lu is a London-based development professional specialising in clean technology and renewable energy. She is a partner at London-based Forbury Environmental and also writes for ReConnect Africa.
This article first appeared in Exchange Magazine