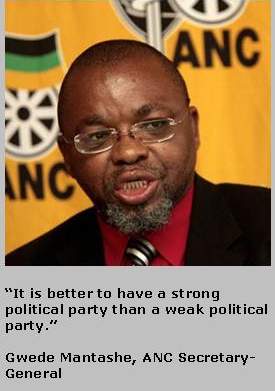 With the eyes of the world focused on South Africa, a recent visit to London by the ANC Secretary-General, Gwede Mantashe, offered some insights into the issues currently facing the country's ruling party and South Africa's place on the world stage.
Formed in January 1912 by a coalition of chiefs, representatives of people's and church organisations, and other prominent individuals gathered in Bloemfontein, the African National Congress is nearly 100 years old. The ANC was created with the aim of bringing all Africans together as one people to defend their rights and freedoms. Mass support in its defiance of the apartheid regime propelled the ANC into the vanguard of the South African liberation movement, with many of its leaders such as Nelson Mandela imprisoned as terrorists.
As the ruling party in South Africa since the democratic elections of 2004, and with a focus on national and racial reconciliation, the ANC continues to face the challenges involved in transitioning from a party of liberation to one of government. Although it has managed to retain the vast majority of seats in South Africa's parliament, the ANC has seen threats to its authority from a vocal opposition, breakaway groups and even from within its own internal structures.
During a recent visit to London, the Secretary-General of the organisation, former miner Gwede Mantashe, spoke candidly about the organisation's challenges and successes and the future of South Africa after the World Cup.
Economic Stability
With a mandate to deliver a better standard of living for the poor, the ANC's success is tied to South Africa's success and the need for the world to appreciate and support the strides made by the country since 1994 is key for Mantashe.
"You have a responsibility to buy into our country and to invest in our country," he said. "South Africa is stable country, both economically and politically."
"We've gone through a global economic crisis not of our own making," he said, as, along with other developing countries, South Africa was caught up in the consequences. Despite a crisis which, he said, was a function of greed where people blew the bubble up to the point of bursting, "what is important to us is that South Africa has acquitted itself well in this process and is an economy you can have confidence in."
During his visit to London, Mantashe answered both critics and supporters, outlining South Africa's economic challenges and ongoing areas of focus.
"We were in a recession for three quarters but South Africa has now registered positive growth in the past two quarters, registering 4.6% growth in the last quarter – quite extraordinary for a small economy."
From Miner to Minder
Mantashe's journey to the top echelons of ANC power reflects the self-belief and determination seen in South Africa's own transition.
"South Africa has now registered positive growth in the past two quarters, registering 4.6% growth in the last quarter – quite extraordinary for a small economy."
Born in rural Transkei, Mantashe's political activist life started in the Student Christian Movement where, from the early 1970's, he chaired its Western Transkei structures. In 1982 while working as a miner, he joined the National Union of Mineworkers, rising to Regional Secretary for the Union in 1985. From 1988 he served as the Union's National Organiser, becoming General Secretary in 1998.
In 2007, a year after stepping down from this post, he was elected Chairperson of the South African Communist Party and, in December 2007, Secretary-General of the African National Congress.
Gwede Mantashe holds the record of being the first trade unionist to be appointed to the board of directors of a JSE listed company, Samancor.
A Story We Can Sell to Anyone
The South African strategy of applying what Mantashe calls 'a counter-cyclical solution' i.e. a government-led economic recovery, is what he credits with the country's economic survival and positive prospects.
"We are quite optimistic about the future," he said. "Revised forecasts now point to 3% overall growth. If we can do that in this year, that will be extraordinary for South Africa."
Acknowledging that the country's trade deficits continue to decline, Mantashe pointed out that this reflects a reduction of imports as well as of exports. Inflation targets have edged closer to government targets and South Africa, he says, is "a story that we can sell to anyone."
"At macroeconomic policy level, we have done well as a country. But we still have to deal with the challenges of high unemployment, inequality and poverty," he said.
South Africa's focus remains on road and rail infrastructure and on maintaining momentum following record levels of investment leading up to the World Cup.
New Challenges
South Africa is currently only marginally a food exporter and the agro-processing sector is an area of focus for the ANC and one which they believe can be considerably improved with further investment.
With more than half the country's mining output exported as raw materials, beneficiation opportunities are available to investors, as are further opportunities within the knowledge industry and renewable energy sector.
When asked about his position on moving away from coal, Mantashe replied: "I am a coal miner and I don't think coal mines must be closed." Nevertheless, there is a huge demand for energy in South Africa, he said, and investing in the green economy and alternative sources of energy – South Africa is more 90% dependent on coal energy – is vital to the country creating the right energy mix.
South Africa has long championed regional integration and this, said Mantashe, will enable more effective trade and an improved market of consumers, pointing out how access to a large market gave China a huge advantage in its own development.
Guiding the Party
Since the elections earlier in 2010, the ANC has faced vocal criticism from opposition parties, parts of the South African media and some former members, notably the breakaway political party, Congress of the People (COPE). The ANC still remains at the forefront of South African politics and Mantashe made no apology for any perception that the ANC is too strong.
"It is better to have a strong political party than a weak political party," he said. "This means our processes and decision making are faster. The ANC can adapt and preserve. It remains relevant because it is always a step ahead."
The party has also had to deal with challenges from some of its own structures, most particularly from the ANC Youth League and its leader, Julius Malema.
Despite being sanctioned recently by his party, Malema's pronouncements continue to cause confusion about the ANC's intentions, creating unease in certain sections of the investor community.
Mantashe addressed head-on the question of nationalising mines – a Malema inspired controversy – by pointing out that nationalisation is not ANC policy and that Malema "is a young man elected by a rowdy conference that produced a rowdy leader."
"The ANC still remains at the forefront of South African politics and Mantashe made apology for any perception that the ANC is too strong."
Mantashe explained at length the process by which ANC policy is made, dismissing suggestions that policy can in any way be made off the hoof and outside these strictures.
"Policies in the ANC go through a rigorous process," he said. Such debate, he added, merely serves to highlight that diversity is welcome and that the country can take it – "South Africa is stable and democratic."
The Future
The ANC Secretary-General's visit came in the week preceding the start of the World Cup and he took the opportunity to point out that South Africa has invested enormous energy, time and resources into the event.
"There will be glitches but it will be the best run World Cup ever," he promised. The tournament - the first ever on African soil – is, he said, a celebration.
"It is more important than the football. It is a celebration of our freedom. From being kicked out of FIFA in 1976, we are now hosting it."
The party and the country now have to build on this achievement and work towards creating the kind of society the ANC was set up to do. South Africa's strengthened relations with other emerging economies, particularly China, will help to propel the country forward in the coming years.
Noting the changing realities of global politics, Mantashe sounded a warning to South Africa's traditional allies who are slow to engage in a new form of partnership.
"If there is complacency in Europe," he said, "China will fill the vacuum in Africa."
Image: Sapa