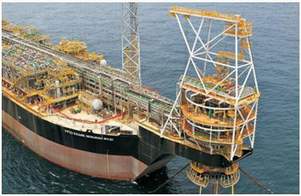 Striking first oil is significant for any nation – and for any oil and gas company. But when oil flowed at the Jubilee field in Ghana, it was a particularly historic event.
November 28, 2010 will forever be bookmarked in the collective Ghanaian memory as the day the West African nation stuck oil.
On a hot Sunday morning, the first oil in the country's history flowed from the giant deepwater Jubilee oilfield, which lies about one kilometre beneath the sea off the western coast of Ghana. Jointly owned by the UK's Tullow Oil plc, Andarko Petroleum, Kosmos Energy, Ghana National Petroleum Corporation, Sabre Oil and Gas and E.O. Group, the Jubilee field contains around 1.2 trillion cubic feet of gas and possibly as much a 1.8 billion barrels of oil.
A Historic Event
Initially the production rate will hover around 55,000 barrels of oil per day, rising to 120,000 barrels per day as new wells are completed over the next six months. By 2012, production is expected to reach 250 barrels of oil and 250 million cubic feet of gas daily.
According to Dai Jones, President and General Manager Tullow Ghana, the historic event is particularly significant for the for the sub-Saharan nation's economic growth. "We are proud to be part of history and to contribute to this flagship oil and gas development project," says Jones. "The wealth created from natural resources, particularly one that can generate energy, could bring large-scale foreign earnings into the country and be positive for Ghana."
By 2012, production is expected to reach 250 barrels of oil and 250 million cubic feet of gas daily.
What's also remarkable about the Jubilee field, says Jones, is that it is the "fastest-ever full-scale comprehensive development". "It's taken only three years from discovery to delivery of oil, which is a tribute to the dedication and hard work of a world-class team working on a world-class field."
Indeed, Ghana achieved first oil in less time that Angola's Girassol and Nigeria's Bonga fields, both of which have roughly the same status and significance as the Jubilee field, but each took five years from discovery to commercial production.

The success of the Jubilee field has further boosted the fortunes of Tullow Oil, which is a well-established member of the UK's FTSE 100 index. It's also a topic that will no doubt be top of mind for Andrew Windham, Tullow Oil's MD Africa, who will be attending the prestigious Next Generation Oil & Gas Africa Summit 2011 which takes place at the Arabella Western Cape Hotel in South Africa from 5-7 April 2011.
Windham is just one of the leading figures from the global oil and gas sector who will be tackling such topics as the changing drilling environment, seismic surveying and production optimisation, particularly as it relates to enhancing well productivity and reservoir management.
This closed door summit, hosted by GDS International, a leading business-to-business events company, will also feature such key delegates as Neil De Beer, Secretary General for the Organisation for African Business Development, Arsenio Mabote, Chairman of the National Petroleum Institute and Hon Isak Katali, Minister of Mines & Energy, Ministry of Mines and Energy Namibia.
Next Generation Oil & Gas Africa Summit 2011 is an exclusive C-level event reserved for 100 participants that includes expert workshops, facilitated roundtables, peer-to-peer networks
For more information, visit www.ngoafricasummit.com
Top Image: © 2011 Tullow Oil plc - Installation of the Kwame Nkrumah FPSO on the Jubilee Field in Ghana