10 Years On - Achievements and Challenges for South Africa
Archbishop Desmond Tutu launches UK celebrations for South Africa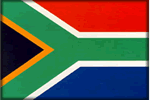 On Sunday 25th April, the gilded domes of St Paul's Cathedral, London, witnessed an unprecedented display of African drumming, singing and ululating as a service of thanksgiving was held to celebrate the 10th anniversary of freedom and democracy in South Africa and to launch a week of festivities.
The Cathedral was packed with a crowd made up of South Africans living in the UK, diplomats, British dignitaries, clergy, representatives of civil society and other friends of South Africa.  As the service commenced, the South African High Commissioner to the UK, H.E. Ms. Lindiwe Mabuza, joined the Dean of St. Paul's and other leading clergy in a solemn procession down the aisle.
Delivering the sermon was the most Reverend Desmond Tutu, Archbishop Emeritus of Cape Town, who spoke of the contrast between the past South Africa and the present South Africa, ten years after the end of apartheid.  In a sermon that blended the solemnity of the occasion with his unique brand of humour, the Archbishop highlighted the needs of present day South Africa. 

Citing the problems of poverty and unemployment as well as the scourge of HIV and AIDS, he made a powerful plea to those present to continue to support South Africa through its present day challenges.
"The struggle is not over," he said, "and this period is perhaps the hardest. South Africa needs your support… will you give it?"