Ghana Stock Exchange makes the business case for investing in the Emerging Markets
Ghana and Nigeria topped the six best performing stock markets of Africa on a global rating in 2003.

In a recent statement from the United States (U.S) Embassy, Africa provided the world's best performing stock markets in 2003.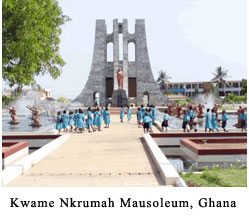 With other top African performers including Uganda, Kenya, Egypt and Mauritius stock markets, the returns on investment exceeded 50 % in US$ terms.

The marginalisation of African financial markets by the media in the West may be understandable, given that these markets are relatively small.  However, the fact remains that in 2002 and 2003 African stock markets have, on average, outperformed the market.

In Ghana, according to Databank Financial Services Limited, the average index return on African stock reached 41% in 2003, compared with a 30% return by the Morgan Stanley Capital International (MSCI) global index; 32% in Europe; 26%in the U.S (Standard & Poor); and 36% in Japan (Nikkei). 
Citing cheap evaluations, an improving macroeconomic environment; and S&P's upgrading of Ghana's Sovereign rating to B+, the Ghanaian Stock Exchange was reported to have recorded a U.S dollar return of 144%, putting it ahead of 61 other markets around the world.

Interest in Kenyan stocks also increased, reflecting greater investor confidence following the smooth political transition two years ago, a commitment to macroeconomic reforms and a resumption of foreign aid to boost the economy.
African markets are expected to continue to do well in 2004 and Stephen Hayes, President of the CCA (Corporate Council on Africa) described the report as "another reason why investors should seriously consider Africa's emerging markets as places ripe for investment."

Sources:  Databank Financial Services(www.databankgroup.com) Allafrica.com (www.allafrica.com)