The first Nigerian Female Inventor & Innovator of the Year Award ceremony was recently held in Lagos.  The ceremony was organised by the Global Women Inventors & Innovators Network (GWIIN), in association with the National Association of Nigerian Women In Business and the Nigerian Business Women's Forum.
The awards highlighted the scientific, engineering and technological achievements of women in Nigeria and the contribution of Nigerian women to manufacturing and economic growth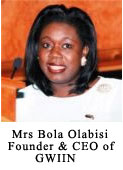 Mrs. Bola Olabisi, the founder and CEO of GWIIN, has gained international recognition for her work and was one of the first professionals to volunteer her expertise with Interims for Development.
"GWIIN provides a platform for capacity building and business opportunities while putting the spotlight on the importance of intellectual property rights and international trade," she says.  Recognising that an increase in the number of women involved in the design and application of new products and services makes good business sense, GWIIN's members use their knowledge and experiences to yield better productivity and profitability by raising awareness and promoting women's contribution to the manufacturing industry and to economic growth.  
The Awards are extremely competitive and as Bola says, "the women had to show that their ideas are commercial, original and unique.
The event created the opportunity to discover the views of the women involved - their experiences in taking their idea to market, the challenges and the achievements they have undergone as they continue to pursue success".  
The successful recipients of the Awards included Oluseyi Olukayode Adeosu, who won the Nigerian Female Inventor of the Year Award for her bottle mouth invention and Tomilola Awoniyi for OGI, a nutritious maize powder.
The GWIIN Awards highlight the need to encourage a steady flow of creative people, both men and women, to provide competitive ideas to boost the economies of Africa.  By improving self-confidence and increasing motivation, the Awards have helped to raise the aspirations of female inventors and innovators across Nigeria, putting the spotlight on remarkable women entrepreneurs.