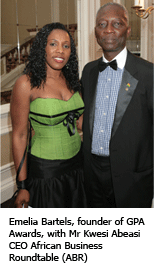 Riding high on the success of Ghana's international football team at the World Cup, the Ghana Professional Awards ceremony in London paid tribute to the success of Ghana's sons and daughters in the Diaspora.
The Ghanaian Professional Achievers (GPA) Awards recognises individuals from a Ghanaian background who are making a positive contribution to the image and reputation of their mother country and aims to promote, encourage growth, excellence and innovation in Ghana's global professional and business community. 
Founded in 2001 by Emelia Bartels, Director of Excell, a marketing and public relations consultancy, the GPA awards have become the forum for harnessing and developing the entrepreneurial skills and talents of Ghana's extended community and act as a platform for identifying positive role models and mentors for aspiring young people in the Diaspora.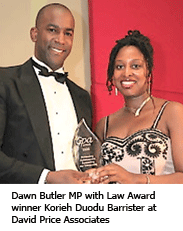 The professional award categories include Law, Architecture, Health, Banking and Finance and Science and Technology.  Other awards are offered in recognition of achievements in Media, Entrepreneurship and Business Innovation.
As a Ghanaian professional living and working in the United Kingdom, Bartels admits to a passion for promoting the best of Ghana.
"Promoting and harnessing our professional and entrepreneurial talent is not only essential in raising the profile of our community but also significant in highlighting previously untapped talent which is essential in any thriving economy," she says.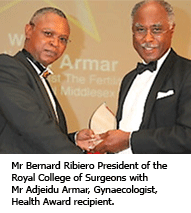 The 2006 Awards were attended by a host of participants from a diverse range of sectors and, not surprisingly, a large representation of Ghanaian professionals.  The keynote speaker for the event was Ghana's Minister for Tourism and Diasporan Relations, the Hon. Jake Obetsebi-Lamptey.
Previous winners of the GPA Awards include social entrepreneur Dame Betty Asafu-Adjaye, radio presenter Reggie Yates and Business Innovator Frances Williams of Interims for Development.
Photos: Smile