When it comes to the subject of Africa, balanced reporting in the media is often hard to find and, with a few exceptions, there is little reporting of business in Africa in the international media.  Successfully promoting external investment in Africa means addressing the negative stereotyping and one-dimensional reporting of the continent.
The Diageo Africa Business Reporting Awards, which were first launched in 2004 by Diageo, the leading premium drinks company, were established to recognise and reward journalists and editors providing quality coverage of the business environment in Africa and promoting a more balanced view of opportunity in Africa.  The 2005 Awards were presented at London's Guildhall in July.
The ceremony, hosted by Diageo Chairman Lord Blyth, was attended by over 200 people from the worlds of business, media, government and civil society. Stressing the importance of Africa to Diageo's global business, the Chairman hoped that, by promoting more widespread reporting of business in Africa, the awards would encourage potential investors to look more closely at the opportunities Africa has to offer.  Diageo has a strong presence in Africa.  Guinness, one of its major brands, is brewed in over 20 countries around the continent and exported to many others.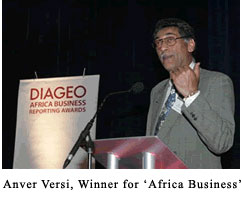 The keynote speaker, HE Paul Boateng, British High Commissioner to South Africa, urged journalists to tell "the whole story" of Africa. "Africa is not a single place," he said. "It is very complex and its potential is wondrous. We all hope in 2005 that that potential is unlocked."

Professor Wiseman Nkuhlu, Executive Head of NEPAD, underlined the need to attract more investment to Africa. "These awards have been established by a company that knows Africa to be a welcoming destination," said Professor Nkuhlu. "I applaud Diageo for this innovative approach to encourage more prolific reporting of African business in the international media."

Diageo Africa's Managing Director, Nick Blazquez, presented awards to Issac Umunna of Africa Today for Best Published Feature ('A Partnership of Giants') and Grant Ferrett and Caroline Pare of BBC Newsnight for Best Television Feature ('Coca-Cola comes to Mogadishu'). 
Editor and journalist Anver Versi who won two awards (Best Publication 'Africa Business' and Best Journalist) spoke of the challenge to the media to tell the whole story of Africa. 
"Unfortunately, coverage of Africa often bears little resemblance to the Africa we know. Africa has enormous potential. We haven't tried to portray Africa in a positive way, just as we know it."