"Let us be ambitious in what we want for our countries and our continent"said Gibril Faal, Chair of the African Foundation for Development (AFFORD) as he welcomed participants to the organisation's annual flagship event, the African Diaspora Development Day (AD3).
Describing the event as one that celebrates the contribution of Africans in the Diaspora, Faal urged those present to use the event to learn how to improve the impact of these contributions to Africa. "We come to AD3 aware of the constraints and barriers," he said.  "However the event is one for being solution merchants rather than problem peddlers.  That is the spirit with which we come to AD3."
AD3 is an action-oriented, interactive, participatory, and fun-filled day that attracts hundreds of Africans and friends of Africans in lively debate, sharing of ideas, and resolution to action.  The topics on the 2006 agenda included the subject of remittances and how these and other investments can support the creation of jobs, identifying the skills, knowledge and experience needed to support entrepreneurs in Africa and how to leverage networks, contacts and influence to lobby against barriers to job creation through enterprise in Africa. 
Master classes and workshops held across a range of topics including employment skills, fundraising and public speaking, as well as a vibrant African Development Marketplace, added to the variety of the day.
"Jobs, not handouts, will create wealth"
The theme of the event reflected AFFORD's aim to create 8 million jobs in Africa.  By 2008 AFFORD aims to have mobilized 45 African Diaspora communities and groups in the UK to invest their financial, intellectual, political and social capital to create or support 15 small, micro and medium sized enterprises (SMMEs) that focus on providing employment opportunities for young people in the DRC, Ghana, Nigeria, Sierra Leone, Uganda. Over the next three years AFFORD will concentrate on supporting the African Diaspora in the UK to contribute to wealth and job creation in Africa.
"AFFORD is convinced that jobs, not handouts, will create wealth, opportunity, dignity and hope in Africa," said Chukwu-Emeka Chikezie, Executive Director of AFFORD.  "Following our deliberations here today, we shall commit to concrete, practical actions and initiatives in the next year to involve the African Diaspora and others in creating some of those much-needed jobs in Africa."
"The creation of decent jobs that can be performed by poor people is the single most effective way to reduce poverty in Africa." Economic Commission for Africa
RemitAid – Tax Relief for Remittances
In his welcoming address, Gibril Faal highlighted AFFORD's work on remittances, which he described was now being as an important, and arguably better, part of Africa's development finance.  Conservative estimates by the IMF show that Africans abroad sent home approximately $32 billion in 2005.  AFFORD has recently launched a policy initiative called RemitAid, which recommends that remittances sent to developing countries qualify for tax relief in the same way that donations to charitable organisations attract tax relief, known as Gift Aid.
AFFORD's RemitAid campaign has started to gain momentum and is attracting support from key stakeholders including some developing country governments, UK money transfer operators, remitters and several hometown associations.  This lobbying, said Faal, has also contributed to the recent resolution passed by Finance Ministers of Africa urging Western countries to consider tax relief for remittances.
Partnership for Enterprise
AFFORD is also focusing on African businesses based in the UK which import goods from the continent, pointing out that if these businesses can be strengthened then they can import more goods which in turn will create more jobs.
AFFORD's partners for the event, the Diamond Trading Company (DTC), part of the De Beers diamond company, was represented by Innocent Mabusela.  He spoke of the event's objectives as being a platform to create workable ideas for development in Africa.  Mabusela highlighted his company's strong commitment to corporate social responsibility as an integral part of the business, citing the 2000 Kimberley Process as an example of cross-sectoral partnership to address illegally traded diamonds.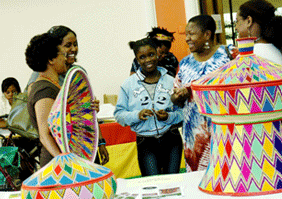 "The need for effective partnership is critical to the promotion of enterprise and investment in Africa," he said, noting that De Beers is working successfully with Sierra Leone, providing expertise in diamond trading.  DTC sees its relationship with AFFORD as part of its policy of identifying key partners "Success can only be achieved with partnerships that deliver concrete results, such as AD3.  One of the things we can start doing is being an ambassador for our continent and change the perception of international business about Africa," he said.                                                       
Ringtones for Enterprise
The Keynote speaker of AD3 epitomised the concept of enterprise.  Alexander Amosu is a successful UK-based entrepreneur who made a fortune pioneering the ring tone industry. The North London entrepreneur made his first million at the age of 24 by selling ringtones of the latest R&B and hip hop tracks. From what started as a favour to his brother – creating a ringtone for a mobile phone – Amosu, who originates from Nigeria, went on to set up a ringtone scheme that generated instant revenues.
Ringtones today are big business and were worth an estimated $3.5bn globally in 2003.  Amosu left university to expand his fledgling company, R&B Ringtones, and within four months had made enough money to recruit 21 staff and hire an office in London.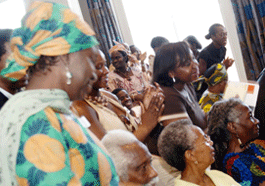 Amosu went on to sell the company and his latest project is Mobsvideo.com, an online community portal that encourages video-enabled mobile users from 21 countries to request and share film clips.
Amosu's focus is now on providing support, guidance and seed funding to young entrepreneurs with the establishment of the Alexander Amosu Charitable Trust, through which he hopes to produce a new generation of entrepreneurs from Africa and its UK Diaspora.  Having pledged £250,000 of his own money, he is now set on raising £750,000 for the fund.
Amosu spoke of the challenge of using his success to impact on Africa.  "It's great being successful in the UK but if you're not successful at home, then you haven't really achieved anything," he said.  Describing himself as "a pioneer and not a follower", Amosu's Trust aims to provide role models for young Africans and helping young black entrepreneurs by offering direction and advice.  His Trust will provide premises, business support and advice from accountants, lawyers and marketing experts for selected entrepreneurs for up to one year.
Creating Jobs is about Creating Hope at Home
Following the keynote speech, a lively debate by a panel of entrepreneurs was chaired by Kwame Kwei Armah, the noted UK playwright and creator of award winning play, 'Elmina's Kitchen'.
Events like AD3 highlight the desire of many Africans to move away from the emphasis placed on development aid.  As Onyekachi Wambu, AFFORD's Information Officer pointed out, "At the moment, just giving people aid ensures that nothing sustainable is really being built." 
Creating jobs in Africa is about creating hope at home, he said. 
"Ultimately, the most sustainable thing one can have is a business and if it's making money, people will keep it going. If Gordon Brown wants to make an impact on poverty reduction he puts people in jobs and they create a dynamic business sector. So if it works here, why should Africa be any different?"