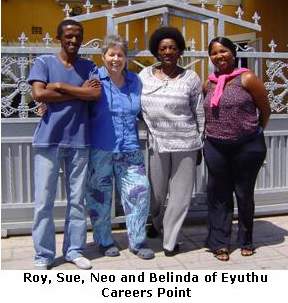 A British Careers Advisor's visit to Cape Town has led to a spirited campaign to bring professional careers advice to a disadvantaged township.
While many of us want to make a difference and to help those in need, very few people actually take on the painstaking and often grinding task of seeing an idea become a reality.
Sue Doyle, a Scottish-based Careers Adviser, is one of those rare individuals who have shown determination against the odds to turn an idea into a project and, in her case, one that will make a lasting impact on the lives and prospects of the residents of Langa in Cape Town, South Africa.
Cape Town is the second most populous city of South Africa, with strong tourist, agricultural and manufacturing industries. It is an affluent, thriving, vibrant city. Yet in Langa, Cape Town's oldest township, unemployment is estimated to be at least 44%.
Eyuthu Careers Point
Through setting up Eyethu Careers Point, a not-for-profit, non-government organisation, Sue and her team of dedicated South African colleagues, aim to provide a service to assist the people of Cape Town's townships to develop their potential through jobs, training or education, so they can take advantage of the opportunities offered in the city and within the new South African economy.
Eyethu Careers Point will help the people of Cape Town's townships to develop their potential, through jobs, training or education.
Eyethu Careers Point will help the unemployed citizens of the townships find work, or gain the training or education that will enable them to earn, to become independent, and therefore able to support their own kin. The organisation also plans to assist organisations such as St. Francis Adult Education Centre and Learn to Earn who are helping adults in Langa to improve their skills so that they might go on to better their chances of taking advantage of Cape Town's opportunities.
ReConnect Africa spoke to Sue Doyle and Roy Moatlhodi about their plans for Eyethu Careers Point and the help they need to achieve their vision.
ReConnect Africa (RCA): What inspired you to begin this project?
Sue Doyle (SD): I'm a Careers Adviser who loves my job – well most of it! Specifically, the part of my job that works directly with people, whatever their age and situation. I've had lots of different jobs myself, and, whilst not greatly successful in terms of financial gain or achieving management status, I have had both interesting and amusing experiences. And this has perhaps become my motto – to challenge myself, to have adventures that will widen my knowledge of others as well as myself! In this, I have been lucky and have had some success. A Careers Point for Langa is my latest adventure.
Why this project? During a voluntary stint in Langa a few years ago, I was really shocked at the lack of careers guidance and assistance given to school leavers. I also became aware that assistance with, for instance, applying for a college or university, depended on whether the teacher responsible for Life Orientation (of which careers education is a part) considered them as sufficiently morally upright. One teacher eventually explained this by saying that she was tired and depressed by AIDS and so much death around her.
There was also a lack of assistance for those young people who wanted a traineeship/apprenticeship rather than an academic training.
I realised that I had no right to judge, but I also recognised the damaging effects of the lack of a professional careers adviser who could provide objective and unprejudiced guidance.
Shortly after my return from my first voluntary stint in Langa, I had an operation on my foot which meant that I was unable to go to work, and I spent the time researching the whole question of careers guidance in South Africa, finding useful information in the World Bank's Human Development Sector Report in 2003 "A Framework for the Design of Career Information and Counselling Services in Developing Countries – A Country Report on South Africa" by LLE Kay and DH Fretwell, and "A Review of Labour Markets in South Africa: Career Guidance and Employment Services" written in Oct 2005 by Dr. R du Toit, Senior Research Specialist of the Employment and Economic Research Programme, HSRC.
I returned to do more practical research in 2007, and with the help of my friend Su Gangat, we confirmed that not only was there a lack of such support for school leavers but also for the huge number of unemployed in the townships.
For family reasons, I was unable to return until April 2009, when I was pointed in the direction of Roy Moatlhodi, as someone who was strongly motivated in his desire to help his people to rise out of their poverty. When I think of it, looking back, I was truly fortunate in finding someone so upright as well as being driven! Perhaps that was inevitable, because it was my friend and landlady Sisthandi who pointed out that her son was the ideal person to help and eventually lead the project.
RCA: What do you think your experience and Roy's brings to this project?
SD: I came to Careers Guidance late in life, when I had gained a great deal of tough life experience. I am a strong believer in social justice for all, so I found the poverty and lack of hope in the township truly shocking and difficult to understand. So perhaps the first contribution that Roy gave to me was to help me to understand more fully. I had created a website by then (later edited by a young Scottish colleague to be more tactful and less angry).
For 3 weeks during 2009 we went round everywhere together trying to find out where we could get help and how to set up our organisation. It was a tough and frustrating experience, perhaps exacerbated by the very fact that I was a white 64 year old lady and he is a 40 something young black guy! We got some strange receptions, which could have been embarrassing, and we used to get angry afterwards until we could see the funny side!
He had experience as an entrepreneur so knew what we had to do to set up an organisation. He is also farsighted and it was his idea to change the name of the organisation from Langa Careers Point to Eyethu (meaning 'our' in Xhosa) Careers Point so that we could spread to other townships when we could.
It was a tough and frustrating experience, perhaps exacerbated by the very fact that I was a white 64 year old lady and he is a 40 something young black guy!
I returned to Scotland leaving Roy feeling frustrated in that we hadn't got as far as we wished. This period was actually frustrating for both of us and at times our relationship was sorely strained. During this interim period my colleagues and I held a pub quiz which raised a sum of money which proved useful when I returned to Langa in mid October 2009. After "a frank discussion" with Roy which clarified our thoughts about where we both stood and where we wanted to go, we were stronger, perhaps because we were now really coming from the same viewpoint.
Growing the Team
We spent a great deal of time applying for government grants, which hopefully should prove fruitful in the next few months.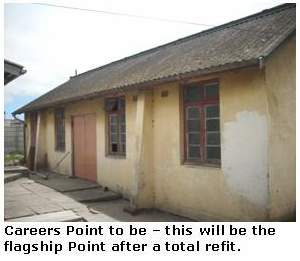 We also knew that we needed to get more local support. The first one to bring on board was Roy's sister, Neo, who had taken me to a prison to meet some young men who she had taught when she was a primary teacher. I thought (perhaps because of my experience in a secure school in Scotland where I go once a week) that one of our target groups should be ex-offenders, so Neo was an obvious choice for this portfolio.
Then there is Belinda Dilima, a young enthusiastic entrepreneur who was immediately onside. She had already run a group for youngsters in the township on Saturday afternoons and who connected us to Dr. Mzwandile Plaatjie, an Educational Psychologist who was seeking to start up his own operation.
So an arrangement has been reached whereby the non-profit making organisation, ECP, has - or will have, when in operation, an income generating organisation alongside. Recently we have had the luck to make contact with Mandisa Makolomakwe, a Johannesburg businesswoman originally from Cape Town, who believes strongly in our cause.
Eyuthu Careers Point is certified in South Africa as a non-Government Organisation and we now have a Board that is responsible for the project as well as an Accountant and a lawyer.
RCA: Roy, what was your background before joining forces with Sue on this project?
Roy Moatlhodi: I was born and bred in Langa, completed my primary school in Cape Town and went to further my secondary school studies in Francistown, Botswana,
ultimate finishing my high school in Cape Town. I then went to the University of Cape Town, where I enrolled for Social Sciences and majored in Political Science and Sociology. I furthered my tertiary education by enrolling for a postgraduate diploma in Marketing and Advertising.
I started my employment career at Ogilvy & Mather advertising agency, as a freelance consumer behaviour researcher. In 1998 I was recruited by the department of Trade & Industry in Pretoria, where I worked as a Communications officer. Afterwards I was headhunted to work for a USAID primary health care project in the Eastern Cape for a period of three years. At the end of the contract I went back to Johannesburg, where I joined my wife and kids.
After a contract role assisting the Minister of Minerals and Energy with the drafting of the mining charter, in 2004 I decided to venture into entrepreneurship. I am currently the Programme Manager for the Eyethu Careers Point.
RCA: Sue, how can people in the UK or elsewhere help to support this project?
SD: We need laptops and PCs in our Careers Points to help our clients to gain the information they need. I have found a charity which refurbishes computers but the hardware still need to be bought and transported.
Our Careers Points need total refits - I have only seen the one in Langa and know that it will take money and hard work to make it not only habitable for staff and clients, particularly in the coming winter, but secure, so that the equipment will be safe.
Our staff members need training, let alone salaries that befit people who are working so hard to find employment for Cape Town's townships' many unemployed. I am hoping that my experienced colleagues from Skills Development Scotland might volunteer to come out to help with training, and that eventually negotiations between Scottish and South African universities might enable the development of postgraduate courses to provide the training for Careers Advisers to serve South Africa's townships in the future.
My co-workers are still persevering without appropriate incomes! It is great that Roy now has on-the-spot support from Belinda, who is equally motivated to help her people. For me, I am hoping that I will be able to return sometime soon to Langa when funding permits.
Sue, Roy and the team are looking for sponsorship and funding to take the programme forward.
For further information and help with funding Eyethu Careers Point