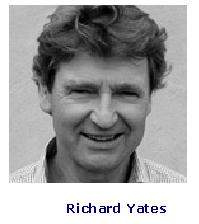 Think you can't make the career choice that you want? Yes, you can, says leading career coach Richard Yates.
So often some people think of the reasons why they can't do something, whereas a change of thinking might unlock a new path, an alternative thought process which reinforces the reasons they can do something. It's the challenge for those of us who work with others to assist in finding the key that unlocks that process.
Pressure from Above?
A friend suggested that Sally came to see me as she was due to come to the end of her current contract in the Metropolitan Police and had admitted to being rather unsure of what she, unmarried and 29, wanted to do next. She sat down for our session, actually quite confident and self-assured. So I asked her what she wanted to talk about, did she know what she wanted to do next.
"Probably, Advertising" she replied, although I detected a slight suggestion of doubt in her voice. "Ok" I said, "So why have you come to see me?" "Well, you know, simply confirmation that this is the right thing to do."
So often some people think of the reasons why they can't do something, whereas a change of thinking might unlock a new path.
So then we started the tale, from the beginning; how she had actually wanted to become an internet webpage designer, seemed to have a gift for it, but her father had other ideas, wanting to see his daughter 'do something with your life' – suggesting of course that webpage design wasn't quite the right thing! Funny, and sometimes tragic, how parental pressure can seriously affect the decisions you make in your late teens, often only realising later in life with more maturity and experience that you should, perhaps, have stuck to your guns.
Trusting your Own Thoughts
Sally asked her father whether he would loan her some money to pay for the web design course that would give her the skills she needed. He says: "Of course! But I have an inkling you could carve out a great career in the Metropolitan Police;" following his own illustrious one. "Would you please me and just see whether you could pass the selection tests? If you decide it's not for you, then I'll give you the cash you need."
Well, she did well, and he didn't honour his side of the bargain; with no funding, she stayed, resentful and untrusting. And so by now we had we got to 'today' ... and 'advertising'.
As we talked about relationships and her experiences, she began to trust her own thoughts and ideas, secure in the unthreatening confidential coaching environment. Suddenly, and I can remember this moment as if it was yesterday, she leans forward and says: "Do you know what I really really want to do?" "It's not in advertising then?" "No!" "Go on!" I say; and out it came, ideas unfettered by parental judgement and personal insecurities, a stream of excitement and enthusiasm. She outlined her ideas, her timescales and her business model.
Eventually, breathless, she asked: "What do you think? Can I do it?"
"If you think this idea has merit, it's worth pursuing. Only then will you know whether you can do it or not"
"Great" she said, and got up and left!
I sat there in the aftermath, reinforced in my personal belief that if you really want to do something, the best thing is to do it. In my hand I had held her metaphorical brake!
Richard Yates set up The Yellow Palette in 1996, mainly offering leadership and management coaching, amongst other assistance. He is trained in coaching and is a Certified Practitioner in Neuro-Linguistic Programming and Time Line Therapy. www.theyellowpalette.co.uk