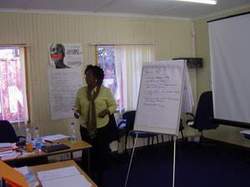 New to training or need some advice on improving your training skills? Vincent Owen outlines his 5 top tips for delivering high impact and effective training.
1. Preparation, preparation, preparation
There are three elements you need to prepare. You need to prepare yourself to deliver the content. If you've developed it yourself, you will obviously be familiar with the content but if not, it is critical that you become as familiar with it as possible before you start to deliver, especially for the first time. But remember, every time you run the programme it's best to go through this preparation stage, even if the programme is to be run many times.
The next thing to prepare is your materials for use during the programme. As with the content it's up to you to develop these and you need to make sure you have the right paperwork in the right place at the right time.
The last element of preparation is ensuring the environment is right for you and right for the participants as well. You will need to liaise with the people at the training venue to make sure you have flipcharts, projectors etc., and that the room layout is right. When I'm running an event, I always aim to get to the venue well before to set up the room well in advance and to check the equipment in good time.
2. Use a variety of methods
Use a variety of teaching methods. As we all know, different people learn differently. Some by listening to others...some by watching other people do things...by reading a book...watching a DVD or whatever.
If you ask most people 'What's 6 times 9?' they will almost certainly answer 54. But most people will have forgotten how they know that.
If you ask most people 'What's 6 times 9?' they will almost certainly answer 54. But most people will have forgotten how they know that. By including different kinds of learning activities within your programme you will almost certainly develop a far more effective piece of training. So, whilst you will need to do a fair bit of talking at the start of the programme, the sooner you can introduce some group or syndicate activities, the better.
Introduce some scenarios to not only get the participants to try their hand in a safe environment but also to get other participants involved as observers to help their colleagues. In essence, the more of different kinds of activities that you can put into the programme, the most effective the learning is likely to be.
I think it is always important as well to have an activity of some sort in the session immediately after the lunch break if you can. Whatever you do, you must ring the changes to try to keep all involved.
3. Remember the golden rules for visual aids
Some golden rules for using PowerPoint slides: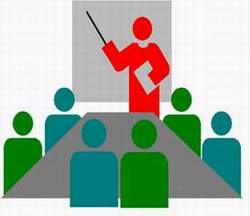 Don't use slides as a substitute for what you're going to say and don't just read out the words on the slides.
Don't put too much information on one slide.
Don't use too many fancy transitions from one slide to the next as they can annoy people
If you have a number of points to make on one slide, reveal them one by one rather than show them all at once. After all you want your audience to be with you, not ahead of you.
Only use sound effects if they really add value.
Make sure that the font and background colours you use give a high degree of contrast to make sure people can read them and, of course, it's also important to use a large enough point size.
Try not to stand between the projector and the screen. Participants want to see your slides, not your shadow.
Flipcharts are a very useful, and a somewhat underused trainer's tool. There are a few points to remember when using flipcharts, however:
Use capitals rather than lower case. They may take you, as the writer, longer but they're a lot easier to read, especially from the back of the room.
Use high contrast colours such as black or blue in preference to greens, yellows, oranges and reds which are harder to read, particularly for those with a degree of colour blindness.
Try to write in straight lines.
Spell correctly.
Try to face your audience when writing on the flipchart rather than turn your back on them.
4. Remember your role
Remember you are there as a facilitator. The dictionary definition of the word 'facilitate' means 'to make easy or to help forward'. And I think that's exactly what we should be doing in the training environment, trying to make learning easier for the participants or help them forward with their development.
Different people learn differently. Some by listening to others... some by watching other people do things.
In addition to your role as facilitator, you're also the designer of the programme content and, as such, I think you have a number of responsibilities or roles. Your role is both interesting and quite difficult to achieve successfully. As facilitator, you need to:
Identify exactly what your organisation wants you to deliver as training and be clear of the outcome.
Develop appropriate training material to address the needs identified by the organisation.
Deliver the material to the best of your ability to meet the training needs of your participants i.e. the consumers of the product.
Involve subject matter experts as necessary as co-presenters but work closely with them to ensure consistency of message.
Demonstrate that the training that you have designed has been effective by improving the skills or success rate of the team to the satisfaction of the organisation.
5. Critically review your programme
Some trainers use a review questionnaire at the end of their programmes and these certainly have their use, but they cover a number of items which relate to the venue, the room facilities and the like. I always feel that the comments unless they are particularly negative about the programme content and the performance of the facilitator are not always particularly useful.
Why do I say this? Largely because we ask people to complete them right at the end of the programme when they may well be a little tired and they almost certainly will not have had time to reflect sufficiently on what took place during the programme. In my view asking people to complete these forms a week after the programme finishes would probably be a lot more use, but that can be difficult to manage.
So, whilst the participants' feedback sheet has a value, I think the best person to review the programme is you, as facilitator, but this needs to be done very critically and as objectively as you can.
What we should be doing in the training environment.... (is)....trying to make learning easier for the participants or help them forward with their development.
The sort of questions you should be asking yourself at the end of the training includes:
Do I feel overall happy with the way I performed and managed the learning process on behalf of the participants? If we go back to our definition of "facilitate", did I really help them to learn and meet their objectives?
Have I met the learning objectives set out by my organisation or department?
Did the programme run reasonably smoothly in terms of keeping to time and covering all the material?
Did I manage to engage with most of the participants most of the time? If not, why not?
Did the activities and group exercises used actually work and add to the participants' learning?
Do any elements of the course content need changing before I run it again?
Will the participants be able to perform better next Monday?
| | |
| --- | --- |
| | Vincent Owen is a Senior Consultant for Interims for Development a Human Resources and Training consultancy for Africa. Vince has developed and run a range of Human Resources and Management Training programmes across Africa. |