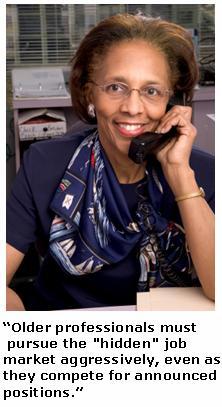 While you can't change your age, how you portray yourself when you are over fifty makes all the difference to your career opportunities
When it comes to job hunting for the over-50's, career specialists are overwhelmingly optimistic about the odds – if people are willing to put in the work and, in some cases, to change their mindset.
Leading career coach Peter Cobbe offers a number of practical suggestions.
"Out-of-work professionals who are 50 or older may have to work harder and smarter, but they can find comparable or even more senior-level new employment," he says.
"Regardless of age, there's an undeniable need for job seekers to seem vital. While you can't change your age, you can portray yourself as current, both in how you think and what you say. For instance, read and reference the latest business thinking, be conversant in new technologies, talk about pastimes and outside interests. Develop a lifetime learning mind-set. People who show passion about business and life project a vibrant image."
"Unbundle" Your Skills
Older professionals, says Cobbe, need to "unbundle" their skills to emphasise those that are of use to potential employers.
"Somebody who has worked in a single function or industry for a long time may have a narrow idea of what he or she is capable of. If they were to look at all the skills and experiences accumulated throughout their career, however, they might find that they're applicable to many different situations. And in fact they may find they have an advantage over others with less experience."
While you can't change your age, you can portray yourself as current, both in how you think and what you say.
"Job seekers over 50 should avoid discussing their last job, assignment or work history unless asked in detail. Rather than looking back, demonstrate that you know the market, challenges and competitors of the company you are interviewing with", he says. "Instead of saying, 'while at company X I did...." reframe it as, "have you considered this possible solution?'"
Titles can also complicate the job search, adds Cobbe. "People over 50 are sometimes held back in their job searches because they reach for titles. Today, titles aren't as important as possessing the ability to influence people in the work environment...and to be able to do it up, down and across functional levels within an organisation."
Cobbe advises older applicants to demonstrate flexibility and resilience in their job to counter the stereotype of older workers as people stuck in their ways.
"Workers over fifty need to project energy, agility and a sense of urgency," he says.
Routes to Careers
Using networks and contacts to get in front of recruiters is an approach every career coach would recommend. In the case of older people, says Cobbe, it is even more critical.
"Older professionals must pursue the 'hidden' job market aggressively, even as they compete for announced positions. Job hunting nowadays is all about need creation. Things are always changing in companies, even after the budget is done. Don't ask whether a company needs someone or something. Instead, portray your uniqueness...the value-added piece."
According to Career Coach Sue Duncan, older applicants have to demonstrate their continued relevance. "It's all about currency; demonstrating current skills and experience, flexibility, being open to change and active self development."
Mature professionals, she says, "must be focused and targeted in their search on sectors and companies that value expertise and experience – value-add and uniqueness is key."
She also stresses the importance of research. "Research the company well; what are their particular issues or high priorities at the moment? Then you can show you have invested time in preparation and offer solutions in the interview."
Presentation and Attitude
Personal presentation becomes ever more important if you are in the over-fifty category, says career coach and image consultant Gill Hicks.
"When it comes to the interview, ensure that all the non-verbal communication conveys energy and enthusiasm - voice, body language and appearance. A slightly 'tired' suit or monotone voice can say it all to the interviewer," she says.
It is definitely not all doom and gloom for older applicants, according to Julia Little, a career coach who has worked with clients who have been successful in finding jobs despite the recession.
"The clients that I work with have gone on to getting jobs in much the same way as they always have," she says. "They're maybe a bit more flexible and need to be a bit more pro-active, but their experiences certainly don't tend to reflect the common perception.
"I'm also finding that most clients, irrespective of their backgrounds, are really surprised when they first take a look at the advertised market in their field to see that there are a considerable number of jobs for which they could apply. As for the over 50s, I have heard that the biggest change in labour market trends recently has been the number of over 50s (and men over 50 in particular) who are being taken on by companies!"
By encouraging employers to see them in the light of their skills and expertise as well as the commitment and passion they bring to a job, older professionals stand a good chance of finding a job.
So, if you are over 50, don't despair – career coaches agree that success is often the result of effort, persistence, a positive mindset and having an open attitude to exploring new opportunities and approaches to using your skills.