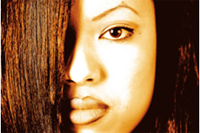 Dear Career Coach

Can you please settle a debate that I am having with my friends? I am a South African woman working in a UK legal company that is quite conservative. I personally choose to keep my hair short and natural and don't see any reason to 'relax' it. But my friends insist I am sabotaging my career by not straightening my hair as my firm will not want to put me in front of their best clients. What is your opinion on this?
Thembi M., London
I'm glad you asked for my opinion rather than my advice because this is an issue that has come up many times when I coach Black women and the range of opinions on this issue always makes for a lively discussion!
So, in my opinion, it is less about how your hair is styled and more about how it makes you feel. It might be stating the obvious but as you are already employed by your firm, they clearly didn't find your natural hair to be an obstacle when bringing you into the company.
To my mind, how you progress in your firm will depend on how well you succeed in delivering on your assignments, impressing your clients, building strong networks among the partners and other key influencers - and increasing your billing.
Clearly, your hair needs to look neat and well styled, whether it's natural or straightened. But you need to feel comfortable with how you look. Otherwise, like a suit that's a little too tight or a jacket that has too many fiddly bits; you will be uncomfortable and distracted when you should be focused on your job. Your hair is simply one part of your overall appearance and image. If the total package is presented in a confident and professional manner, in my opinion, you have little need to worry.
There is a popular school of thought that suggests that looking more like the majority culture (i.e. straightened/relaxed hair in the UK) makes you appear less threatening or 'foreign' and, therefore, more acceptable.
I have to say that, in my experience, anyone who is going to have a problem with your natural hair is probably likely to find another reason to justify their real problem if you were to straighten your hair.
In the UK today, there are many high profile fans of natural hair styles, including Baroness Valerie Amos. And her avoidance of relaxed hair did not stop her being appointed the first Black female Leader of the British House of Lords!
All the best!
Need some help to solve your career dilemma? Whether you are a recent graduate or a seasoned professional, our experienced careers coaches can work with you – on an individual or group basis – to help you get back on track with your career.
From online CV checking to face-to-face coaching, presentation skills training to making the right impact at interview, our careers services will help you reach your goals.