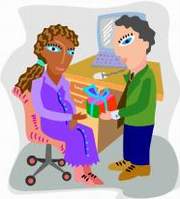 Dear Career Coach

I will be starting my maternity leave in two months and I already feel as if people are excluding me from future plans for our department. I was only promoted into a management position last year and I don't want my leave to take me off-track. At the same time, this is my first child and I don't want to rush back to work and miss a time with my baby that I will never have again. What do you advise?
Christina
Taking time off work, whether it is for pregnancy, sabbatical or other caring responsibilities, can seem quite daunting. On one hand, you have something to look forward to which is going to preoccupy your time and yet, at the back of your mind, is a nagging worry that people will learn to cope without you and you may not have anything to come back to. Knowing how to keep motherhood from clashing with your career is not easy.
Here's what I suggest: focus on the positive. Your recent promotion indicates that your performance at work has been good and that your bosses already recognise your potential. Help them to see you as a long-term investment rather than a short-term absence by planning ahead and by using your time away from work as strategically as possible.
Although you will be busy with your new responsibilities as a mother during much of your leave, try and keep in touch with what is going on at work; new arrivals or departures, changes in organisational structure and also how well your company is doing financially. This will help to lessen the impact of feeling like a stranger when you return.
Show your colleagues now that you remain engaged with your department and that you plan to return at the end of your leave. Use phrases and vocabulary that stress your commitment to your career and what you intend to do when you are back at work. Prepare detailed handover notes and discuss your ideas for your team after your return with your manager before you go on leave, so that s/he is clear about your commitment to the firm.
Some companies encourage 'keep in touch' days which give women on maternity leave a chance to come into the office for the occasional day or part-day during their leave. If this is available to you, think about how to make best use of such days, for example, using them to networking with colleagues, senior staff and other key people within the company. If you want to keep your career on-track, being visible and networking effectively will be crucial, especially when you are taking time out of work.
With your strategy in place, enjoy your new arrival and take care of yourself and the baby. There will be plenty of time to take care of your career later.
All the best!
Need some help to solve your career dilemma? Whether you are a recent graduate or a seasoned professional, our experienced careers coaches can work with you – on an individual or group basis – to help you get back on track with your career.
From online CV checking to face-to-face coaching, presentation skills training to making the right impact at interview, our careers services will help you reach your goals.