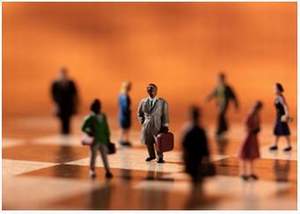 Dear Career Coach
My problem is a bit different to some of those I have read in your magazine but I hope you can advise me. I am setting up a business and my concern is how to make what I am doing stand out when so many businesses out there are fighting to get customers? I really believe in my product but I need ideas about how to make sure that it sells.
Xav
With so many people moving into self-employment, particularly as jobs become scarcer, knowing how to market your business will be critical if you want to succeed.
Standing out in a crowded marketplace means knowing your product or service well. It also requires you to be able to clearly define its unique selling points (USPs) – that is to say, the features or characteristics that set your product or service apart. Once you have identified your USPs, you can use these to help you position your product and steer the way you approach your marketing and advertising. Being clear about what makes your product special will enable you to use this information to attract customers.
You didn't mention the nature of your product so this response can't be too specific. However, there are a number of ways that you can define the USPs of your business, including the following:
Price: Is your product priced to be the cheapest, most expensive or best value compared to its competitors?
If you have a question for our Career Coach, e-mail us at
Service: Are you offering or can you offer excellent service to your customers, both in terms of speed and quality of service and after-sales service? This is one approach that you can use to make your product stand out.
Quality: Can you differentiate your product as a high quality product so that you can charge more for that guarantee of quality?
Variety/Range: Can you offer a wider variety or range of your product or customise it for customers so that it is seen as unique?
Innovative: Are you offering something that is completely new in the market place? If so, that will be its own USP – there simply isn't anything else like this out there!
Awards: Enter your product into relevant industry award competitions and use any awards it wins to boost your product in the market.
Guarantees: Offer guarantees (durability for a period or a free replacement/speed of delivery or a free gift) to demonstrate your belief in your product and to encourage people to see it as a risk-free proposition.
For detailed career guidance and advice, don't forget to contact us to find out how we can help you.
All the best!
Need some help to solve your career dilemma? Whether you are a recent graduate or a seasoned professional, our experienced careers coaches can work with you on an individual or group basis to help you get back on track with your career.
From online CV checking to face-to-face coaching, presentation skills training to making the right impact at interview, our careers services will help you reach your goals.