If you have a question for our Career Coach,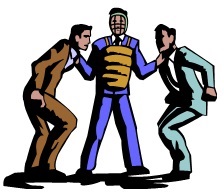 e-mail us at  careers@ReConnectAfrica.com
Dear Career Coach,
I seem to have hopped from job to job over the last 5 years. How can I focus myself on a career direction and get some stability in my life?
Maureen, London
Hi Maureen
When the job that we are doing does not align to our real skills, interests and values, we tend to move on. However, if we don't pause to really try to understand what our skills and interests are we find ourselves constantly on the move searching for that elusive great job that we know is out there.
Not everyone wants or needs a 'career'; many people are happy to have a good job that pays well enough to fund the lifestyle that they enjoy outside work.  For others – and you sound like one of these – a career direction is about more than a job.  It is about the sense of finding stability in life and of feeling fulfilment beyond simply earning a weekly or monthly wage.
But finding career fulfilment involves taking stock and asking some hard questions. Success and fulfilment mean different things to different people; for some, it's about money, for others it is about following their true vocation. Only you can define what success looks like for you, based on your values, skills and your passions.
I am suggesting that you take some quiet time and reflect on the following:
What really motivates me?
How do I define success?
How do I think I will feel when I have achieved this success?
Based on my vision of success, what is the right kind of work for me?
Is what I am doing in my current job using my talents, abilities, qualifications and experience to the full? If not, is there an opportunity to do so?
Is what I am doing putting me on the path to achieving the success I envisage?
Am I working in an organisation with goals and values the same as mine?
How do I prefer to work and what do I do best?
Is my job at the right level of responsibility for me?  If not, what would be?
What do I need to change in order to be doing the work that is right for me?
What information, skills, training or action do I need to make this change?
What, if anything, is stopping me?
What do I need to do to remove any obstacles that prevent my action?
Although they may seem straightforward, these questions are probably quite tough to answer. Clear your mind of any preconceptions; put aside what others may expect of you and what you think you should be doing and focus purely on yourself. When you have answered all of the above, you will be on the path to defining your career direction and achieving the stability you want. Keep in mind how you think you will feel when you have achieved success and let this feeling motivate you to keep going through the tough times.
As the saying goes, 'do what you love and you'll never have to work another day in your life'. That great job is out there – but you will have to ask the tough questions to help you find the right direction.
If you would like some help with clarifying your career path and moving forward in your professional career,  contact us to learn more about how we can help you with tailored and confidential career coaching.
Need some help to solve your career dilemma?  Whether you are a recent graduate or a seasoned professional, our experienced careers coaches can work with you – on an individual or group basis – to help you get back on track with your career.
From online CV checking to face-to-face coaching, presentation skills training to making the right impact at interview, our careers services will help you reach your goals.  Contact us now to discuss your needs