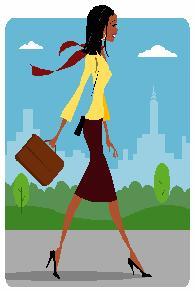 Dear Career Coach
I've worked in the media and not-for-profit sectors for most of my career and I've become used to dressing down and looking quite informal. I've just been hired to join a corporate firm and I want to make sure that I fit in. Can you give me advice on making my image look a bit more professional?
First of all, congratulations on your new job. You are smart to be concerned about how you will come across because the truth of the matter is that no matter how competent we are, the first thing we are judged by is our appearance. Looking casual in an environment that requires more formal dress could encourage people to make negative judgements about you which will impact on your credibility and effectiveness. For this new audience, you need to be sure that what you wear matches their expectations of professionalism.
As a new recruit, you will quite rightly want to make sure that you look the part for the job you've been hired for. No matter how comfortable your casual clothes are, remember that when you are at work, you are representing the company and the image that they want to project to their clients.
Looking professional doesn't mean you have to spend a fortune on designer clothes. Invest in a few good pieces and you can mix and match these to give you a variety of looks. Ask for honest advice from friends who work in corporate environments and learn to recognise which styles and colours suit your body shape and which you find comfortable to wear. You can strongly influence what people think about you by steering away from reinforcing negative stereotypes and taking care with your appearance.
If you have a question for our Career Coach, e-mail us at
Don't forget the other things that make up a good professional image; good hygiene, clean fingernails, groomed hair, understated make up and subtle jewellery.
Bear in mind that a professional image is not cultivated simply by your appearance but also by how you carry yourself, the quality of your work and the way you interact with other people i.e. all the attributes that make people form an opinion about you. A popular phrase that captures what 'image' means is 'what people say about you when you are not in the room.'
When you are entering a new environment, take time to study the people working there and the way that things work in that organisation. Observe how people speak to each other and the kind of language and style used in e-mails and other written communication so that you can match that approach.
Maintain a professional image by showing yourself to be a team player and a committed, trustworthy and capable employee.
Don't get sucked into cliques or get caught up in office gossip and politics. As much as possible, keep an open mind and look for opportunities to form contacts and networks outside your immediate department. By finding champions across the organisation, you will have a better chance should you want to move departments or aim for a more senior role.
If you can take these steps, you will have a better chance of creating and managing a professional image that will help you reach your career goals.
All the best!
Need some help to solve your career dilemma? Whether you are a recent graduate or a seasoned professional, our experienced careers coaches can work with you on an individual or group basis to help you get back on track with your career.
From online CV checking to face-to-face coaching, presentation skills training to making the right impact at interview, our careers services will help you reach your goals.