Innovative jewellery designer Betty Balaba launches her gold and silver debut collection and talks about how her work combines Ugandan inspiration and British craftsmanship.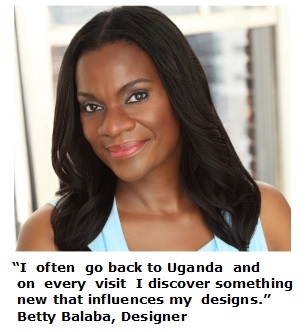 Betty Balaba is an innovative jewellery designer who draws on the influences from her Ugandan heritage as well as the people she has met and the places she has visited.
As a British woman with strong African ties, Betty Balaba's designs developed as a result of her passion for travel, which led to her dream of creating contemporary fine jewellery with equatorial influences.
Her collections are inspired by elements of a continent, incorporating land, sea and air. While the pieces are influenced by Africa's nature, themes and colours, the materials used in the ranges include pearls, silver and 18 carat gold set with precious stones such as diamonds and emeralds. All of this creates a series of collections that are modern and easy to wear.
Following the launch of her debut collection – unique pieces made from 18ct gold and sterling silver – ReConnect Africa spoke to Betty about her work and how she has combined her African heritage and British craftsmanship.
ReConnect Africa: You describe your work as 'Inspired by Africa, made in England and loved the world over'. How does Africa inspire you?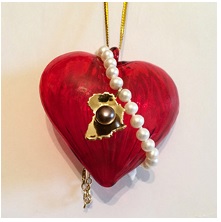 Betty Balaba: I am originally from Uganda and spent a lot of time in East Africa. The culture and way of life have also inspired my designs, using elements from land, sea and air. I also visited many craft fairs and loved the jewellery. I was inspired by what I saw there.
ReConnect Africa: How do you remain connected to Uganda and to the inspiration that 'the Pearl of Africa' offers?
Betty Balaba: I often go back to Uganda and on every visit I discover something new that influences my designs.
ReConnect Africa: When did you start designing jewellery and what motivated you to do so?
Betty Balaba: I started designing jewellery a year ago. I had always wanted to design jewellery, but told myself that I would do so in the future. As time went by, I thought 'Why am I waiting?' I began my collection with nine silver rings.
ReConnect Africa: What kind of training have you undertaken to produce the kind of work that you are doing?
Betty Balaba: I have been on various courses to improve my skills and my technique.
google_ad_client = "pub-8266222399114638"; /* 300x250, created 31/03/09 */ google_ad_slot = "5590648665"; google_ad_width = 300; google_ad_height = 250;
ReConnect Africa: Your jewellery is made in England. What influenced this decision and how do you choose who to work with?
Betty Balaba: I wanted to have good workmanship and I also wanted to have easy access to oversee the production process.
ReConnect Africa: As an artist who has to also be a business woman, what do you see as the key challenges?
Betty Balaba: Pulling everything together; from initial design to production, marketing and social media and PR. You have to wear many hats.
ReConnect Africa: How has your debut collection been received and how do you market and sell your designs internationally?
Betty Balaba: The designs have been well received. People have said they are very original and they love the concept.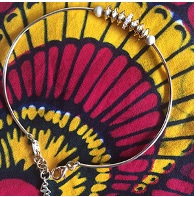 ReConnect Africa: What are your plans for the Betty Balaba Jewellery Collection going forward?
Betty Balaba: I would like to stock more stores both here in the UK and also abroad, and to increase my range.
ReConnect Africa: What advice can you offer to other designers who would like to take the path you have chosen?
Betty Balaba: Just go for it. There will never be a perfect time to start. Follow your passion and don't quit when things don't go as fast as you'd like.
Check out Betty's new collection at: www.BettyBalaba.net