The inspiring Bernice Blackie shares the story behind her journey from Liberia to a successful gospel career in the United States.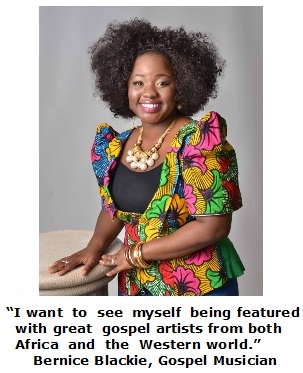 Young Liberian gospel artist Min. Bernice Blackie has risen above a challenging early life to take her unique blend of Liberian high-life gospel and R&B international
With the release of her latest gospel single 'You Change My Story' ReConnect Africa spoke to the young gospel recording artist about her journey and her hopes for her career.
There are many Liberian gospel musicians, but only one, Bernice Blackie, who so completely embodies the skill and vocal that is transcending Liberian gospel music.
Bernice has consistently displayed her talent of combining Liberian and African high-life gospel music with soul and blues into a unique and contemporary style of gospel. Over the years, she has introduced her style of gospel music, captivating young and old alike. Her title track "Father's Love," Hip Hop track "I feel your pain" and a Liberia high-life track, "U Na Do Weh" are already causing a buzz in African churches around the world and inspiring young people.
Overcoming Challenges
Born in 1990 in Monrovia, Liberia, Bernice Bartehn Blackie has become a household name when it comes to Liberian gospel music. She started singing at the age of eight, having been inspired by her father, Aaron N. Blackie, and the legendary Whitney Houston.
Despite her success, Bernice has also had her share of misfortunes in life. After suffering from an unknown ailment for a protracted period, she was taken to Ghana in early 2006 to undergo medical treatment. The illness caused paralysis in her leg, leaving her unable to walk for months.
Facing rejection and abandonment by her family during this period, music became her only escape. Eventually, fully recovered, she went on to sing as a backup vocalist on a singing competition called TV3 Mentor in Ghana, making her first break into the world of gospel music.
I was told not to give up my dreams until I reach the top, and that I shouldn't look at the challenges because they are just there for a while.
Following her appearance on the show, Bernice launched her first gospel album, 'Crucifixion', in 2010 and would go on to win numerous gospel music awards. At the Liberia Gospel Music Awards presented by LAGMA in Monrovia, Bernice won "Best Hip-hop Gospel Artist, the Best Music Video, Best Female Gospel Artist, and Best Female Artist.
Other awards won are a praise award in May 15, 2013, along with two other awards. Bernice made her first international appearance on June 14, 2014 at the Liberia Music Awards, held in at the Gwinnett Culture and Performing Arts Center, in Atlanta, Georgia USA, where she took home two awards (Gospel Artist and Group of the Year).
ReConnect Africa spoke to the young singer about her journey and her hopes for the future.
ReConnect Africa: What were the key challenges for you in pursuing your career in music?
Bernice Blackie: I would say the most challenging time was when I had to sponsor myself through and with only the help of my parents. It was also challenging in Liberia to get people to love my music, sometimes having to run after promoters to help me promote my music and having to pay them to push my music.
google_ad_client = "pub-8266222399114638"; /* 300x250, created 31/03/09 */ google_ad_slot = "5590648665"; google_ad_width = 300; google_ad_height = 250;
ReConnect Africa: What is the best piece of advice you have been given?
Bernice Blackie: I was told not to give up my dreams until I reach the top, and that I shouldn't look at the challenges because they are just there for a while.
ReConnect Africa: What advice would you give to other undiscovered African singers out there?
Bernice Blackie: The best advice I can give is that, first of all, you need to work on yourself vocally and get some knowledge of instruments. Try to record yourself and put it out on social media so people can get to hear your work. Make sure you work with professional producers, because no-one will accept just any type of quality with the work you give to them.
Always present yourself as the artist you are; in short, look good all the time because you do not know when opportunity will come your way. Try to send your demos to record labels and be creative in your work; be different. Also, try to put out a professional video, and don't be afraid to spend on your work...it matters!
ReConnect Africa: You recently relocated to Portland, Oregon in the United States, how do you hope to see your career progress outside Africa?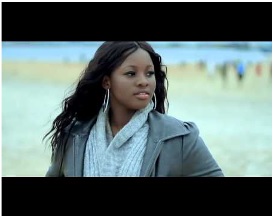 Bernice Blackie: I want to go international, I want to be signed to the best record label and I want to see myself being featured with great gospel artists from both Africa and the Western world. I also want to have my own gospel band.
Lastly; putting God first...my goal as a gospel artist is to preach the word of God to both old and young through music and to win souls for the kingdom of God. I also hope one day to establish an orphanage and music school in my homeland, Liberia.