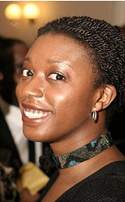 I was educated at...
....Highbury Fields Secondary School and Sixth from, Kingsway College and City University.
My first job was...
....Diversity Research intern for the Freedom Forum and The Chronicle. I was researching the under-representation of black journalists.
What I do now is...
....the role of Programme Manager at Africa Beyond, an organisation which promotes African arts and culture in the UK. It started as the legacy project of Africa 05 but has grown and developed into an organisation in its own right. We have a festival starting from 31st May to 13 July and we're currently raising funds for future projects and welcome support.
Yvette Ankrah
was born in London and graduated with a degree in Journalism and Psychology before taking a Masters in Communities, Organisations and Social Change.
Joining Artrage magazine as an Administration Assistant and later a journalist, Yvette then moved into freelance journalism, writing for the Calabash newsletter among others. She joined The Freedom Forum and The Chronicle in 1998 as a Diversity Researcher before taking on a number of roles including Public Relations, reaching the position of Senior Account Executive with Lighthouse PR, and later joining the Historical Association.
Since January 2007, Yvette has been the Programme Manager for Africa Beyond. The website, launched in March 2007, incorporated the BBC's Africa on your Street website, a favourite destination for lovers of African music. The Africa Beyond website highlights African film, theatre, dance, literature, and visual arts; while Africa on your Street offers gig listings, CD reviews, interviews and music news.
Africa Beyond arose as a legacy of Africa 05, which brought together over 100 supporters for the UK's biggest ever celebration of African arts. Africa Beyond aims to keep African culture in a central position within the modern UK landscape, through the website and other media, and through lively public events.
What I learned along the way is...
....a smile and good manners goes a long way, that it's a very small world and that it is okay to say 'no' to things that are not right for you. Also to surround yourself with positive people and to value friendships and family.
My greatest influence has been...
....My family. I have a very determined streak in me. I think I've inherited the perseverance and hard work gene.
The best advice I ever received is...
....Go to university! I went through a phase where I was going to be a pioneering journalist who worked their way up to the top and felt I didn't need a degree to achieve that. I did get a degree and it helped me get a foot in a door and taught me skills that I still use today. I've since got my various professional qualifications and a Masters. I still feel there are a few more things to achieve academically. I have always loved learning and am always taking some course for enjoyment or professional development..