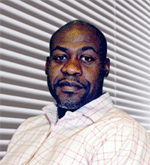 I was educated ……
.. Achimota School and the University of Ghana, where I got a BSc Hons in Maths and Computing.
My first job was…
…. as a floor trader on the London Stock Exchange.
What I do now is….
….... run the Emerging Markets business in Europe for UBS Investment Bank.
Tutu Agyare has worked in the financial services sector for nearly 20 years and is the Global Head of Emerging European Equities for UBS Warburg, a division of UBS, a top tier investment banking and securities firm and one of the largest global asset managers. He has been in his role since September 2001.
Born in Kingsbury, London he relocated with his family to Ghana in 1971 where he completed most of his education. After University, he came back to the UK and joined O'Connor Securities, a boutique trading firm on the floor of the London Stock Exchange in 1986. Agyare made history not only as the first African but as the first black trader on the floor of the London Stock Exchange.
Agyare has held a variety of positions in O'Connor, SBC and now UBS, primarily in a trading role, and was extensively involved with marketing, research and advising major corporations. Increasingly, his work has focused on Africa.
Agyare runs the UBS Investment Bank's trade in equities in the Euro time-zone Emerging Markets Division a region that includes Russia and Eastern European countries, Turkey, Israel, the Middle East and all of sub-Saharan Africa.
What I learned along the way is…
…. if anybody has a problem with who you are, let them stress about it; you should not spend any time thinking about it.
My greatest influence has been…….
….. Kwame Nkrumah.
The best advice I ever received is…..
... do what you want to do, be what you want to be - and the only limitation is in your mind.