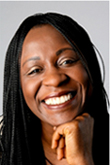 Rhoda Wilson
Television Presenter
I was educated at ……
… the University of Westminster for my first Degree and at Middlesex University for my Masters in Financial Management.
My first job was……
… in an Oxfam Shop in Cranleigh, Surrey.
Rhoda Wilson was born in Nigeria and educated in England. With a solid education behind her, Rhoda went on to lead a successful career in the financial and energy sectors. Her experience in some of the world's most prestigious firms has given her the skills and ability to manage teams, develop successful strategies, and mentor individuals who aspire to be the best.
In 2003 Rhoda founded Cosmo Music which successfully showcased World Music across the UK. In 2005, The Rhoda Wilson show started on OBE TV and has gained critical acclaim across digital television ever since. Recently moving to BEN TV (Sky Channel 184) the show, aired weekly, currently has a viewership of circa 1,300,000 per show.
With a wide mix of subject matter, Rhoda selects her guests with the central theme of Inspiration at the helm. The 30 minute show consists of interviews based on the lives of inspirational and growing talent across the UK.
A serial networker and social advocate; Rhoda is clear about her goals for this show- "I believe I can make a difference because there is a need in the market and I have incredible passion and I am committed to making this happen."
This passion is reflected by her founding the African and Caribbean Women's Achievement and Leadership Foundation in 2007.
What I do now is……
… run my own production company and present a TV show called the Rhoda Wilson Show currently on SKY CHANNEL - 184 - BEN TV every Friday at 10pm.
What I learned along the way is……
… if your passion is in line with your belief to succeed, the help you need will always arrive mysteriously.
My greatest influence has been……
… my faith in God.
The best advice I ever received is……
… "emotion is created by motion". If you want something in life, be it love, wealth, happiness, you are the only one that can take the step to making it happen!