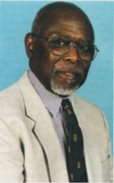 I was educated at…
….. Presbyterian/Basel Mission Schools in the Gold Coast (Ghana), before I completed my Cambridge School Certificate & London Matriculation in Achimota School. I graduated from London University's Westminster Hospital School of Medicine. Later, I attended Liverpool University for Diploma in Tropical Medicine, and then Cambridge University, Christ's College, where I was Schofield Fellow.
My first job was…..
… as a doctor was 'House Physician' in a London Hospital.
Professor Felix I D Konotey-Ahulu
is Dr Kwegyir Aggrey Distinguished Professor of Human Genetics at the University of Cape Coast, Ghana and a Consultant Physician/ Genetic Counsellor, Haemoglobinopathy/Sickle Cell States, in Harley Street, London.
Born in Ghana, Professor Konotey-Ahulu attended Achimota School and the University College of the Gold Coast, before reading Medicine in London, qualifying MB BS. After a period back in the newly independent Ghana as a Medical Officer, he returned to the UK for his postgraduate studies in Tropical Medicine, and proceeded Doctorate in Medicine (MD London University), with subsequent postings at the University of Ghana Medical School, and the Ministry of Health at Korle Bu Hospital, where he directed the largest Sickle Cell Clinic in the world.
A global authority on Sickle Cell disease, the value of Professor Konotey-Ahulu's work which included some discoveries in Clinical Medicine, has been widely recognized by medical practitioners and specialists around the world, leading to his inclusion in a survey of 'The 100 Greatest Africans of All Time'. He has produced upwards of 200 publications, a number of which have become the definitive studies in their field.
Professor Konotey-Ahulu is the first person known to have traced hereditary disease in his forebears, generation by generation, with all names, right back to 1670 AD http://www.konotery-ahulu.com/images/generation.jpg He is the recipient of numerous awards including the Dr. Martin Luther King Jr. Foundation Award for outstanding research in Sickle Cell Anaemia, the Guinness Award for Scientific Achievement in the Commonwealth, and the Gold Medal of Ghana's Academy of Arts & Sciences for outstanding contribution to knowledge in the Medical Sciences by a Ghanaian.
What I learned along the way is…
… that The Fear of GOD is The Beginning of Wisdom.
My greatest influence has been…..
… Papaa and Mamma, Rev & Mrs D A Konotey-Ahulu.
The best advice I ever received is…..
….Longfellow's poem that Papaa taught me aged 9: "The heights by great men reached and kept Were not attained by sudden flight; But they, while their companions slept, Kept toiling upward in the night".