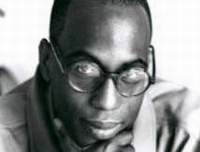 Onyekachi Wambu,
Programme Manager, SCORE4africa
I was educated at ……
… primary school in Nigeria, followed by Stationers' Company School in Hornsey, North London. After this, I graduated from Essex University with a degree in Government and Politics, followed by a postgraduate degree in International Relations from Selwyn College.
My first job was……
… as a Journalist for The Voice covering news issues.
Onyekachi Wambu was born in Nigeria in 1960 and arrived in the UK after the Biafran war. Educated in London and at the universities of Essex and Cambridge, he has worked as a journalist since 1983, and edited the leading black newspaper, The Voice, at the end of the 1980s.
From 1988, after The Voice, he worked full time at the BBC as a senior producer and director. His credits include Ebony, Ebony People, Ain't No Black in the Union Jack, Will to Win, amongst others. From 1993 he ran his own independent production company, making programmes for BBC and Channel 4. He also was involved in cinema exhibition, establishing Black Triangle, a company that promoted black and African Cinema. In the late 1990s he spent two years in the US, making a documentary, Hopes on the Horizon, for PBS television.
Since leaving The Voice, Onyekachi has continued his written journalism. For several years in the mid 1990s, he wrote Inner Vision, a weekly column for The Voice. He now writes a monthly column, Back to the Future, for the international magazine, New African. His book publications include 'Empire Windrush: Fifty years of writing about Black Britain' (ed.) and 'Under the Tree of Talking - Leadership for Change in Africa' (British Council).
Between 2002 and 2008 he was the Information Officer for the African Foundation for Development, a charity established to expand and enhance the contributions Africans in the Diaspora make to Africa's development.
What I do now is……
… fundraising for AFFORD (the African Foundation for Development) and this includes projects such as SCORE4africa (www.score4africa.org) which celebrates the power of football to transform lives.
What I learned along the way is……
… a number of things. That persistence and hard work pay, and the importance of being able to constantly innovate and come up with fresh ideas and approaches.
My greatest influence has been……
… a number of people who have helped me. My wife has been a great supporter and my mum has been a great influence in guiding me to appreciate the importance of family, forgiveness and doing the right thing.
The best advice I ever received is……
… from a man called Ben Bosquet whose opinion I sought after receiving a job offer I was undecided about taking. He showed me the importance of doing what enables you to influence what you really care about and understanding that the biggest stage is not always the most impactful stage. That, sometimes, being on a small stage can help you to deliver more.