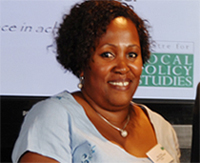 Mame Gyang
Special Projects Manager
I was educated at ……
… the University of Science & Technology, Kumasi, Ghana, where I studied Estate Management.
My first job was……
… as an Estate Manager.
Mame Gyang is the Special Projects Manager responsible for project management to support the delivery of critical projects for Enfield Council's Health & Adult Social Care Services.
A Prince 2 qualified Project Manager, Mame's role includes preparing Project Initiation Documents, setting up issue/risk logs, identifying key milestones and establishing and supporting project teams. Tasked with ensuring that project deadlines are met and objectives achieved, she also prepares briefings and presentations for Cabinet and Senior Management of the Council.
Born in Ghana, Mame studied Estate Management at the Kwame Nkrumah University of Science and Technology before moving to the UK to work in property management.
Following a career change into the retail sector where she took on responsibility for managing a Customer Care Desk, Mame moved to Brent Council in 1996 to manage a team of ten staff delivering a front line service for Brent's customers.
In her role today at Enfield Council, which she joined in January 2003, Mame also holds responsibility for Equalities and co-ordinates and collates equalities returns monitoring information which supports Health & Adult Social Care staff to implement all requirements on the six equality strands and to develop services in accordance with legislation.
The busy mother of two is an avid reader and film buff who enjoys writing poetry, listening to music and cooking for family and friends.
What I do now is……
… Special Projects Manager, Health and Adult Social Care for Enfield Council in London, where I am responsible for project management to support the delivery of the Division's priority and other critical projects.
What I learned along the way is……
… life is short; enjoy it.
My greatest influence has been……
… my mother.
The best advice I ever received is……
… always make sure that whatever you do, you do to the best of your ability and are proud to put your name to it.