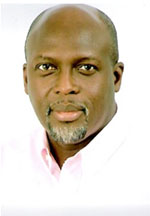 I was educated at…
….. Achimota School, Ghana followed by a "crammer " in Oxford before attending the Universities of Keele and Reading in the UK.
My first job was…..
….as a junior analyst with SIFIDA Investment Company in Geneva, Switzerland. Though African focussed, this firm had never recruited an African when I joined them. I learned a lot at SIFIDA and built a network of long standing relationships across Africa.
J. Mawuli Ababio is the Managing Director of the African Venture Capital Association (AVCA) and is based in Johannesburg, South Africa.
Born in Ghana, Mawuli Ababio obtained a BA degree in Politics Philosophy and Economics at the University of Keele and earned a Master's degree in International Business from Reading University in the UK.
Mawuli has over 20 years' practical experience in the financial sector in Africa. He started his career in the early 1980s as an Investment Officer with SIFIDA Investment Company, a Swiss based African focused investment boutique. In 1991 he joined the African Development Bank in Abidjan, Cote d'Ivoire as a pioneering member of the Bank's Private Sector Unit providing loan and equity financing to the African Private Sector. After a short stint at the Bank, he relocated to Ghana and for five years until 1999 managed the Commonwealth Development Corporation (CDC) sponsored Venture Capital Company (now part of Aureos West Africa).
Mawuli has since then been an entrepreneur in Ghana involved in investment banking (having co-founded his own company in 1999), in microfinance and latterly in commercial banking (in partnership with Intercontinental Bank Plc of Nigeria).
Mawuli has also consulted for Pricewaterhouse -Coopers, France on assignments to set up specialist investment funds in Africa. Mawuli was appointed Managing Director of AVCA on May 1, 2007.
What I do now is…..
….. Managing Director of the African Venture Capital Association and a Director of companies in Ghana and Nigeria.
What I learned along the way is…..
….. always listen carefully and be honest as to what you know and don't know; work hard and simply persevere against the odds; live well and fully and trust in God.
My greatest influence has been…..
… my parents: My Mother (who taught me humility and respect for others) and my Dad, "the ancient capitalist". A gentle soul who impressed upon me the essence of a rounded education.
The best advice I ever received is…..
….. exude confidence in everything you do and never be afraid to reinvent yourself.