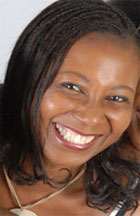 Helen Tucker - Career & Training Consultant
I was educated at
….. Shorefields Secondary Liverpool. I suppose my claim to fame is that Ringo Star from the Beatles attended the same school! I then went onto further education, College and moved down to London to continue my studies; later on in my life acquiring my BA Hons. Degree in Business Studies, Further Education Teaching Certificate, and MBA in Business Administration.
My first job was
…at age16 in Top Shop where I wanted to fulfil my second dream of being a fashion designer (first was to be an athlete and compete at the Olympics). So it was quite apt to get a job in the most sought after place in Liverpool. I was there for 3 years; they eventually offered me my own concession to manage and a job as a fashion purchaser with Littlewoods Catalogue but…..alas, fell in love and moved to London!
Helen Tucker (formerly Dupigny), Candace 'Business Woman of the Year 1997' 'The Voice' newspaper nominee for Community Achievement 1998 and 2007 is a highly victorious, pioneering trainer consultant. She has a BA Honours Degree in Business Studies, a Further Education Teachers Certificate and an MBA. Her extensive wealth of experience as a Senior Consultant, Trainer and Lecturer has enabled her to concentrate on assisting individuals, teams and companies to access their full potential.
Her work has included designing, managing and delivering customised training for Senior Managers and Supervisors, Administrative and Clerical staff as well as delivering vocational courses, within a diverse range of organizations. All have tapped into the series of innovative, unique, interactive courses and management programmes from her successful 'Career Development Programme'. Designed by Helen, the programme has been accredited by EDEXCEL as a BTEC certified qualification.
Helen's passion is clearly and constantly demonstrated by the referrals received from many of her clients and peers. Helen, who has trained hundreds of people from a variety of backgrounds, places and positions, recognizes the underpinning of her success to be the mission statement she follows: 'Learning to believe in oneself, recognising and respecting those needs gives inner strength to achieve the impossible'
What I do now is
…consultancy work and I have recently set up a Women's organisation in Luton, as I wanted to have support whilst being self employed. Being new to the area and wanting to meet BME women in Business, I quickly discovered that there was very little support - especially moving from London where there seem to be so many BME women's organisations (I was a member of NBWN and 'Black Women Mean Business'). These women's groups I found quite useful in developing my skills and maintaining my motivation in being self-employed
What I learned along the way is
… whatever life throws at me, I know the only thing that has truly helped me get through it has been God. I have undergone so many training sessions on self-improvement from Image and Grooming and Presentation Skills to Life Coaching and Personal development courses. I have even written a book on Career development and designed an accredited programme about planning your Career. All these have shaped my career to date to a certain degree. But life does not always go to plan and the times that I have been at my lowest, the only name/person that I have sought to help me through it has been Jesus. So now, being a born again Christian and being baptised has allowed me to let go of certain negative things and to enjoy my blessings.
My greatest influence has been …...
…my children, they actually do drive me and they are one of the main motivating drivers in my career. Another driving force was my Athletics Coach who had so much belief in me, goading me to become an Olympic Gold Medallist running the 200 metres. It really rubbed off on me and I gained a lot of self-belief.
The best advice I ever received is…..
….. you have a choice of how you want to feel when you get up in the morning; whether you decide to be happy or whether you decide to be sad. So whatever we are faced with, we all have a choice in how we feel. My example would be Nelson Mandela. Each morning he got up with the hope that one day he would be free – he set free a nation.