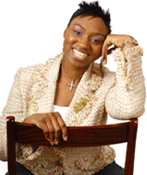 I was educated ……
.. in the UK and then studied in Nigeria. From 14, I continued my education in the UK, going on to College and University. I have an Honours degree in Biochemistry (Greenwich University), a Masters degree in Information Systems Design (University of Westminster), a professional coaching qualification (Coach University, USA) and a Diploma in Biblical Studies (London).
My first job was…
…. a Research Technician in the medial/healthcare industry before I landed my first IT role, which eventually opened the door to me working in a number of European cities.
What I do now is….
….... I am the Director of Success Partners LTD – an award-winning training and development organisation that creates pioneering services and products for individuals, groups and organisations. Over the past few years, I have travelled, internationally, developing people especially leaders and managers in global organisations. I also do a lot of work with women's groups and organisations.
I am the author of two books; my most recent titled, Overcoming Emotional Baggage: A Woman's Guide to Living the Abundant Life, a 'must have' for women intent on reaching the top as I share from my wealth of professional experience gained over the years. I also write a lot for international magazines and my own online magazine.
In between all this, I coach highflying professionals and business owners to become successful and I also do a lot of motivational/inspirational speaking. All I do is in aid of realising my passion, which is to see people fulfil their God-given potential and purpose.
Gladys Famoriyo is the author of 'Overcoming Emotional Baggage: A Woman's Guide to Living the Abundant Life' (Milestones International Publishers, 2006). She is an inspirational international speaker and professional coach who has a passion to see people, especially highflying women and leaders, create a life of lasting success coupled with fulfilment, balance and purpose.
In her book, Gladys shares from her wealth of experience of developing female corporate high flyers and business owners with practical ways to eliminate emotional clutter and pursue truly authentic lives. Gladys is the CEO of Success Partners LTD, an international training and development corporation which provides pioneering services and products. In recent years, she has traveled extensively, developing managers and leaders in blue chip companies in several industries. She is also the founder of Professional Christian Women, a non-profit organisation aimed at equipping women with powerful biblical strategies and principles to promote purposeful and successful living, and supports projects to benefit women, orphans and widows.
Gladys speaks to audiences worldwide with her thought-provoking, life-changing and inspiring messages. She is best known for her 'can-do' approach as well as her ability to inspire and challenge her audiences to action. She has written for several international women's magazines and continues to use her writing as a vehicle to propagate her messages.
Gladys is the recent recipient of an award from the European Federation of Black Women Business Owners (Professional Category, 2006) for her contributions in developing and training women over the past decade through her seminars, programmes, articles, book, organisations and humanitarian work. She is also the recipient of the International Women's Day Award (2007) in recognition of her work as a business owner, author, speaker and coach.
What I learned along the way is…
…. I have learnt a few crucial lessons:
If you are serious about reaching the top (or success), you need an effective support system to support you along your journey. God has been my number one support – in fact He is my Rock. I have various coaches to assist me with various projects. I have mentors to guide me. I have a team of professionals/experts I call upon when necessary. I also have trusted friends and a supportive family that get me through the 'highs' and 'lows'.
Don't just focus on your success goals (the external) but spend adequate time developing you as a person. What many fail to realise is that your attitudes, beliefs and behaviours determine your altitudes in life. Remember you are made up of a spirit, soul and body. All need your attention – more so if you intend to attain lasting success.
Work/life balance is not just a corporate buzzword but essential for those serious about success. Pace yourself and avoid an overly busy, cluttered lifestyle. The words of my dear mother often ring in my ears as she keeps me in check on this. It's so easy to become a workaholic. There was a time I was doing 21 hours a day, so I know what I am talking about! One thing to remember is that you want to be around (long enough) to enjoy the fruits of your labours. I don't believe we have to burn ourselves out - all in the aid of success. Trust me, I have been there! In a busy society like ours, we can all benefit from getting off the treadmill to reflect, rest, re-strategise, and even be restored.
Be focused! Find out why you are here and focus on this. It is so easy to be distracted with 'good ideas' but are they what I call 'God ideas' i.e. ideas that will help you accomplish your purpose? If not, ditch them! None of us know the number of our days nor do you want to waste your life on the non-important. Life is not a rehearsal! You only have one shot at life. That's quite a sobering thought.
Don't be afraid to ask for help. Let's face it; you cannot fulfil the dream on the inside of you, by yourself. Moreover, you hinder other people's potential to be developed/maximised when you hoard stuff. For me, this was a tough lesson as I get satisfaction from getting things done.
Finally, build and nurture your contacts. It really is about whom you know!
My greatest influence has been…….
….. My relationship with God. Through Him, I have been able to overcome insurmountable obstacles. Without Him, I am nothing. In fact this thought keeps me humbled as I consider it a real privilege to be able to impact so many lives globally. What an honour!
In addition to this, I am blessed to have a wonderful family and friends who cheer me each step of the way. I have my Mum and my late Dad to thank for instilling godly and moral values in me – right from a young age (though I did not appreciate it at the time).
There are several people out there, past and present, who have done or are doing great things that I thank God for. Their lives are a testimony that, indeed, "all things are possible". They inspire me more than they will ever know.
The best advice I ever received is…..
... "I can do all things ……"