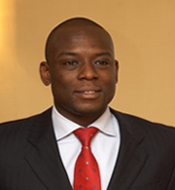 Eddy Datubo
Executive Director, Crystek Consulting
I was educated at ……
… Cranfield School of Management (One of Europe's leading business schools) where I obtained a Masters in Business Administration. I also hold a Bachelor's Degree in English & Education and a Post-Graduate Certificate in Computer Studies, alongside other professional qualifications.
Eddy Datubo is an independent consultant and the Executive Director of Crystek Consulting Limited. Prior to setting up Crystek Consulting, he was a Global Operations Manager for Reuters PLC, where he had responsibility for delivering Content, Media and Financial Services projects in various locations around the world. Eddy is a Senior Business and IT Professional with in-depth experience in IT Strategy & Consulting, Business Transformation and project/ Programme Management. Over the last 15 years, he has led and implemented several multi-million pound global projects, while working with various blue-chip companies within the Banking, Financial Services, Media, Retail, Consulting and IT Sectors, where he has achieved proven success.
Eddy holds a number of academic and industry certified qualifications including an MBA from Cranfield School of Management UK and is a certified Practitioner in Managing Successful Programmes (MSP) and PRINCE 2 methodologies. He is also a certified Project Management Professional (PMP) and holds ITIL Service Management qualifications among others.
Eddy has a solid background in helping organisations achieve strategic change, whether it be delivering new business initiatives, driving organisational change programmes, improving operational efficiency or generating long-term cost savings.
Eddy is happily married with children. He has a passion for music and sports – particularly football, fitness and golf, which he enjoys in his spare time.
My first job was……
… stacking shelves at one of the stores of a major UK retailer. I knew it was a stepping stone to bigger and better things... It did serve up some valuable experiences that have been useful through life's journey. Mostly, it taught me to treat every job with dignity, dedication and value.
What I do now is……
… I am an independent consultant and the Executive Director of Crystek Consulting Ltd – an independent management consultancy and professional services company that specialises in Business Transformation, Project/Programme Management and Information Technology (IT).(www.crystekconsulting.com).
Our vision is to be a trusted ally in delivering successful projects and leading transformational change for organisations and business across the world. We do this by providing expertise and support that is anchored on achieving excellence and sustaining value.
My most recent assignment involved leading a major transformation programme for one of the UK's oldest private banking institutions.
What I learned along the way is……
… you are a product of the values that you live by – for me, those values are Trust, Integrity, Learning, Excellence, Passion, Transparency and of course, Love and Family. Pick the right set of values and you actually get a whole lot more out of life....
My greatest influence has been……
… God my creator, who teaches me that my fate, my destiny and my success are not dependent on or determined by any individual or organisation. HE has influenced my life in more ways than I can explain. I am also grateful to my family especially my mother, for the role they all played in making me the man I am today.
The best advice I ever received is……
… Believe in yourself! You are awesome and powerful beyond measure! My advice to you – never underestimate yourself!