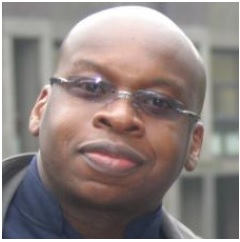 Chukwu-Emeka Chikezie
Executive Director, AFFORD
I was educated ……
… at early primary school in the UK (Cheltenham!!) followed by later primary and secondary schools in Freetown. My first two years of university were at FBC, Freetown with the remainder at Gloucestershire College of Arts and Technology, Northeast London Polytechnic (now University of East London), the London College of Printing and Distributive Trades and City University.
My first job was…
…flippin' burgers for MacDonald's and working behind the bar at a seedy Cheltenham nightclub. My first professional job was as a Programmer.
What I do now is….
…. spend my time exploring ways that we Africans in the Diaspora can maximize our contributions to Africa's development, especially to create jobs and widespread wealth, which will hopefully lead to dignity and hope.
Chukwu-Emeka Chikezie is the Executive Director of the London-based African Foundation for Development (AFFORD). AFFORD's mission is to expand and enhance the contribution that Africans in the Diaspora make to Africa's development. AFFORD has played a role in increasing understanding of the African Diaspora's role in contributing to Africa's development; has helped build the capacity of African Diaspora organizations; and has developed innovative schemes to enable the African Diaspora to contribute to job-creation in parts of Africa. Chukwu-Emeka has worked as a consultant for several international development donor agencies around engaging the Diaspora in development and has commented widely on migration and development issues in the media and in public fora.
Prior to this Chukwu-Emeka worked as a senior industry analyst for a US-based international research and consulting firm helping clients design strategies, using tools - such as scenario planning - to harness the benefits of advanced technologies commercialization and understand their social implications.
Previously he lectured in Media Studies at a London university; helped pioneer the establishment of an international institute for telecoms regulators at a London university; worked as a freelance journalist and as an IT Systems Analyst. He sits on Comic Relief's International Grants Committee, is a Council Member of the African Studies Association, UK, and he has served as Adviser on the United Nations Economic Commission for Africa's Technical Advisory Committee.
Chukwu-Emeka is of dual Nigerian and Sierra Leonean heritage with family ties also extending to Equatorial Guinea.
What I learned along the way is…
… those Rumsfeld-ian "unknown unknowns" can really blind-side you! Investing the time and effort to secure shared buy-in and ownership to solutions or approaches to solutions really pays dividends in the long run. I don't have all the questions, let alone the answers, but someone out there might, so listening, dialogue, and participation are key.
My greatest influence has been…….
…Paolo Freire's book Pedagogy of the Oppressed which taught me the real meaning of empowerment – that as a learner, I have a right to ask my own questions and seek answers, and from there I can proceed to change the world. Before then, I'd been conditioned to believe that education meant regurgitating in exams word-for-word what the teachers had "taught" and that to ask challenging questions was tantamount to undermining authority, itself an act of insurrection worthy of harsh punishment.
The best advice I ever received is…..
…life is very short, do it now. And be true to yourself.