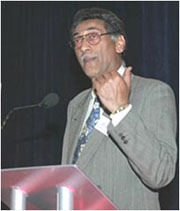 Anver Versi
Editor, African Business Magazine
I was educated at ……
… H.H. The Aga Khan School, Mombasa; the University of Warwick and King's College, Cambridge.
My first job was……
… working on a construction site in Mombasa harbour during my school holidays.
What I do now is……
… Editor of African Business and African Banker magazines, as well as freelance writing and broadcasting.
Anver Versi is Editor of African Business. He was born in Nairobi and educated in Kenya and the UK. He worked with Nation Group of newspapers as a journalist and editor and also with the legendary Mohamed Amin of Camerapix.
In the UK, he worked with several broadsheet newspapers before joining the pan-African press, first with Africa Journal than New African published by IC publications. He also edited Drum West Africa, the London Arts Council's Artrage magazine and Entre Nous for the World Health Organization. He was founder-editor of New African Life magazine devoted to the arts and culture. He was commissioned by Collins to write the first book on African soccer which became a best seller.
Anver is currently the Editor of the largest selling African business and economics journal, African Business. Under his editorship, circulation has soared and the publication won the prestigious Diageo African Business Reporting Award in 2005. Versi scooped the Diageo Best Journalist Award.
Anver contributes regularly to a variety of publications in Africa, Europe and the US, including the Wall Street Journal, International Herald Tribune, Newsweek and the Chicago Tribune.
What I learned along the way is……
… do whatever you do as well as you can – that is all anyone can ask of you.
My greatest influence has been……
… the following: Nkrumah, Ali ibn Ali Talib, Pele and Guy de Maupassant.
The best advice I ever received is……
… 'Arrogance goes before a fall'.