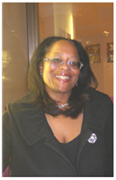 Annmarie Dixon-Barrow
Headhunter
I was educated at ……
… City of Leeds (College of Education).
My first job was……
… as a Manager in a boutique.
Annmarie Dixon Barrow OBE has over twenty years experience at all levels across public, private and voluntary sectors.
She has been responsible for developing programmes to generate employment opportunities for minority groups and renewing focus and reinvigorating activities within existing local, regional and national networks.
Annmarie has been instrumental in establishing new networks and coalitions to develop, implement and extend programmes and provides policy briefings to senior and board-level management for private and public sectors, NGOs and within local and central government.
Annmarie is currently the Managing Director of annmarie consulting, offering a full range of tailored services on diversity and executive search. She is also MD of The Black Excellence Network that offers excellent opportunities to develop and deepen connections.
She has held board-level positions for Open University, New Islington and Hackney Housing Association, Camden ITEC, the London Academy of Music and Dramatic Art (LAMDA) and the League of Mercy. A Senior Advisor to some of the world's largest companies, she is also a Member of the Talent and Enterprise Advisory Group at Department for Children, Schools and Families, Advisor to Time Warner Group and judge for The Power List.
What I do now is……
… provide headhunting - executive search - services.
What I learned along the way is……
… deliver.
My greatest influence has been……
… my mother.
The best advice I ever received is……
… don't forget where you have come from and bring other people with you.