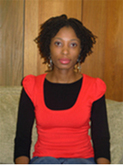 Alice GbeliaFounder & Editor, Catch A Vibe
I was educated in ……
… France. I have a post graduate degree in Information Management.
My first job was……
… working as an Intranet Officer for Motul, a company selling engine oil for motorcycles and cars! Not really glamorous but it gave me a taste for web technologies.
Alice Gbelia is the founder and editor of Catch A Vibe.
After getting her degree in Information Management at the Institute of Political Studies in Paris, Alice began her career as an Intranet Officer for Motul. But Alice's eyes were firmly set on London and after 9 rewarding months at Motul, she re-settled in London in 2002, where she started a career in media.
Alice worked first for Red Bee Media (first known as BDS, a division of the now defunct BBC Worldwide) as a TV Listings Editor and French Team Leader. In 2006, Alice left Red Bee Media to work as Content Editor for Sky.com. During her time there, Alice worked on the Sky Learning project (http://explorer.jointhebiggerpicture.com/) that links students' curriculum with TV programmes, inciting them to explore subjects further.
While working at Sky, Alice launched a first website listing "black" cultural events. The response was so positive that she took a few months off work to research, design and produce Catch A Vibe.
The website has been live for 4 months now and is getting great reviews. The objective is to make Catch A Vibe the number one destination for African and Caribbean culture in London; as well as a launching pad for budding black writers and journalist.
What I do now is……
… many things. My day job is Scheduler for GStar, a channel broadcasting in Africa. I am also the founder and editor of http://www.catchavibe.co.uk, a website dedicated to arts and culture from Africa, the Caribbean and the Diaspora. We list events happening in London (films, concerts, plays, live music sessions, parties…) we have a bars and restaurants guide, as well as book, CD and DVD reviews. We also interview the people who are making their mark on the London arts and entertainment scene.
What I learned along the way is……
… sometimes all you need to do is ask! Ask and you will be given.
My greatest influence has been……
… my mother. She taught by example. I don't remember her giving me a speech about the importance of education and hard work. But I remember her getting up early and coming home late so that we wouldn't lack anything. I remember her making time to sit with me and help me with my homework. And I don't remember her ever complaining about being tired. So that's what I try and do: not complain when things get hard and just get on with it. As a generation, I think we've had it much easier than our parents.
The best advice I ever received is……
… it's OK to fail. Sometimes it's the only way you can learn. You'll do better next time.