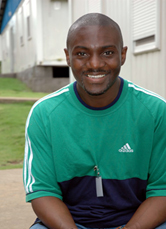 Ade Daramy
Writer, Broadcaster and Press Officer
I was educated at ……
… Sierra Leone Grammar School and Christ the King College, Bo, Sierra Leone, followed by the then-North London Polytechnic (UK).
My first job was……
… in a William Hill betting shop as a 'board man'.
What I do now is……
… Press Officer and Communications for a UK government Executive Agency
Adeyemi Olusegun Abiose Daramy: A Sierra Leonean (despite those Nigerian forenames), who attended school in Sierra Leone and the UK. I am a journalist and broadcaster with over 20 years' experience, broadcasting and writing on mainly, but not exclusively, African affairs for a number of publications including the much-missed West Africa magazine and The Guardian. I have written on politics in Sierra Leone, Ivory Coast, Guinea, Gambia, Nigeria and for 2 years edited the UK government's Cabinet Office's magazine Modernising Government Now. From 1997-2007, I edited Mano Vision African affairs magazine, due to go on-line in 2009.
I am a founder-member of the Sierra Leone Diaspora Network, which encourages the Diaspora to invest and eventually return to assist in the rebuilding of our country. I also work with several schools in Sierra Leone and use my network to bring them equipment and improved facilities.
I am a former Senior Policy Advisor to the UK Cabinet Office, advising on data protection and Freedom of Information laws.
I currently work as a Press and Communications Officer for the Insolvency Service, a UK government Executive Agency. I'm fanatical about music (all types) and sports (most but especially football – Man United fan from birth – it's a long story!).
I intend to return home in the very near future as I believe that what little I can offer is more needed there than here. I am a firm believer in Black organizations working together to uplift our whole community, wherever they may be.
What I learned along the way is……
… you learn something new everyday; some useful, some not (or so you might think, until they help you win a general knowledge quiz!).
My greatest influence has been……
… words of wisdom and encouragement from my parents.
The best advice I ever received is……
… "No two people are alike, so be yourself always; don't try and be anyone else, not even Pele!"