"The best advice I ever received is …
……There is no power without responsibility. In business you can't swan around in a sharp suit and not deliver a quality service with integrity to your customers.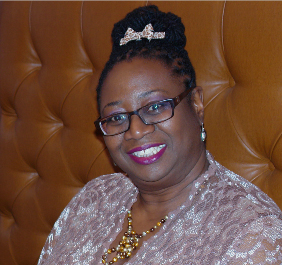 I was educated at....
…London Guildhall University where I earned a BA in Communications and Media, followed by a Masters in Drama Production at Goldsmith's College, University of London.I have completed a number of certified courses including Project Management and Managing People through Change and am qualified for Teaching Adults. I have a thirst for knowledge.
My first job was....
…as a junior Civil Servant working for the Home Office in the Women and Girls Unit in the Prison Service HQ where policy was shaped, handling a lot of sensitive information. I joined wanting to work hard and climb the ranks and was instrumental in creating a policy outlining observances for the religious practice of Rastafarian women in prison, who would not eat meat or strip down to shorts and vests for exercise or example. Back then little was known about the religion and the women's religious needs were not being met by the service. But I found the day to day work mundane and promotion to becoming an officer seemed like a slow grind to me, so I decided to leave for the USA instead.
What I do now is....
…work as a Global Entrepreneurship Development Consultant. After taking on various management roles in a number of organisations, I found myself working in Enterprise and Small Business Development and developing new business start-up courses. I was appalled at some aspects of this service provision and decided to set up my own limited company, Ampod, in 2003. I wrote bids to gain contracts to deliver on local and central government economic regeneration initiatives in London. The company was responsible for the development and sustainability of over 3,000 businesses over that period.
After a while I had a thirst for International work and took on some volunteer opportunities overseas doing enterprise work until I got paid opportunities. In the Far East, Africa, and the Caribbean I provided business consultation and support to large commercial companies and NGOs, some employing over 100 people. I trained and mentored business consultants and in Malawi got them through their Chartered Management Institute qualifications to practice as Business Consultants.
Yvonne Witter MA BA FCMI is a Communications, Media and Business professional who has extensive experience of providing business advisory and technical support to Small to Medium Scale Enterprises [SMEs] and Social Enterprises across both the public and private sectors. She holds a BA and MA in Communications and Media and Diplomas in Business and Finance.
From the UK to Enterprise development and capacity building services in Myanmar, Malawi, Cameroon, Jamaica and Ghana, Yvonne has delivered projects and development interventions focused on assisting individuals within deprived communities to take charge of their lives through enterprise creation. This included assisting them to develop and understand their business models as well as facilitating further enterprise development through an extensive network of local support agencies and networks.
Yvonne also assisted in the establishment of some of the first enterprise businesses in the London Borough Croydon under the Central Government LEGI [Local Enterprise Growth Initiative] Programme, including innovative work on Women's Enterprise that enabled women to perform more successfully in business.
A 2010 Winston Churchill Research Fellow, Yvonne undertook a comparative study of Business Services in the USA and the UK and has contributed to anthologies, online and offline publications. She was also a column writer for The Voice newspaper UK, on business issues.
Yvonne is a Patron of SCEF Street Children Education Charity based in Accra, Ghana and Board Member of TANOE Accra, Ghana. A qualified coach and NLP practitioner, Yvonne was awarded Southwark Business Woman of the Year in 2009 and is a Fellow of the Chartered Management Institute. Web: www.yvonnepwitter.com,www.ampod.co.uk
What I learned along the way is…
…that my son is my greatest achievement. There is no greater achievement for me than bringing another human being into this world and dedicating myself to their development. Nothing else I have achieved in my life is greater than that of loving and raising my son.
The greatest influence on my life has been……
…my dad, Leonard Bailey, who established a business and worked until he died. He had a solid work ethic and was fair and principled. Oprah Winfrey has inspired me by being who she is. I can identify physically with her and, in this body fascist and shadeism culture, she is a beacon. That she still struggles to be smaller is also testimony to the fact that emotional eating issues are deep rooted. Nevertheless she has achieved a great deal.
The best advice I ever received is…
…'There is no power without responsibility'. I do not even know where that came from or if I made it up myself, but it is relevant to all aspects of my life. You cannot claim the power and glory of being a parent and not take full responsibility and show up for your children; make sacrifices and exercise tough love, discipline and boundaries. Parents have a responsibility - and being your child's friend is not one of them. In a relationship you can't claim another as yours and not take responsibility for the impact your behaviour might have on that person's wellbeing. In business, you can't swan around in a sharp suit and not deliver a quality service with integrity to your customers.
My top tips for succeeding in my career area are…
There is always a solution. Always.
No situation, circumstance or tribulation is permanent; everything changes over time.
Work towards achieving excellence in whatever you do and the money follows.
Retain the attributes of loyalty, integrity, compassion and kindness
Continuously update your knowledge and skills.
google_ad_client = "pub-8266222399114638"; /* 300x250, created 31/03/09 */ google_ad_slot = "5590648665"; google_ad_width = 300; google_ad_height = 250;