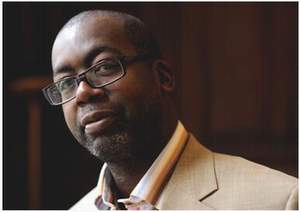 Patrick Vernon
Chief Executive, The Afiya Trust
I was educated at....
....Wolverhampton for primary, secondary and further education level and then studied at Manchester and Warwick University law at undergraduate and postgraduate levels respectively.
My first job was....
....a legal assistant for a firm of solicitors called Maynard and Company, which was one of the very few black-led law firms in the Midlands.
What I do now is....
.... Chief Executive of The Afiya Trust, a national second tier organisation with an England-wide remit to reduce inequalities in health and social care provision for racialised communities.
Over the years, we have focused on mental health, cancer, stroke and other health issues, on service user and career concerns, and on promoting the public health and wellbeing of England's diverse communities. We host several networks that bring together users of health and social care services, carers, professionals, academics and community members who are concerned about health and social care provision and want to see positive changes. Through our networks we have access to over 1000 individuals and organisations, and their opinions and insights inform our work and policy.
I am also a Labour Councillor in the London Borough of Hackney.
I am also the founder and Director of Every Generation Media which has developed and published a number of websites, films and publications on African Diaspora contribution to British and world history ( www.everygeneration.co.uk ; www.100greatblackbritons.com ; www.whenweruled.com; http://charmedlifecampaign.wordpress.com/).
I am a leading expert on African and Caribbean family history and work as a consultant to the BBC, British Council, The National Archives and the Royal Geographic Society.
Patrick Vernon is Chief Executive of the Afiya Trust, one of the leading race equality health charities in the country. Patrick has previously worked as a senior civil servant at the Department of Health and Local Government Association; Director of the Brent Health Action Zone, and Regional Director for MIND. Patrick is a former NED of Camidoc and a trustee for Social Action for Health in East London.
Patrick is also a former Non Executive Director for East London& the City Health Authority, and Independent Chair of Westminster Partnership for Race Equality where he played a key role with the Met Police and the Muslim community in the aftermath of 7/7 bombings in Westminster.
Patrick is also Director and founder of Every Generation Media and Foundation which is a social enterprise in the cultural/creative industries established in 2002 with the launch of its first website www.everygeneration.co.uk. In 2003 the site won the CRE Race in the Media Award for new media (finalist in 2005 and 2006) and 2004 Windrush Award for internet technology (also short listed for the 2005 New Statesmen New Media awards for community/information).
In 2003 Patrick was selected by the Queen as Pioneer of the Nation for Cultural History as part of her 50th anniversary.
In October 2003 the website and campaign 100 Great Black Britons (www.100greatblackbritons.com ) was launched. This has become the most successful high profile campaign to date in raising the profile, history and achievement of the African Caribbean community over the last 1000 years. In 2006 Patrick published the bestselling book on the history of Africa by Robin Walker called When We Ruled (www.whenweruled.com ). Patrick is a Clore Fellow and in 2008 launched his first major documentary called A Charmed Life on the Caribbean contribution to World War Two and the legacy of the Windrush Generation (http://charmedlifecampaign.wordpress.com/ ). This is linked to the campaign in making Windrush Day a public holiday http://www.gopetition.com/petitions/charmed-life-campaign.html
Patrick has a passion and track record in promoting black cultural heritage and family genealogy and influencing mainstream bodies and institutions to recognise the Black British experience. He has been an adviser to the BBC, National Archives, and Royal Geographic Society, British Council and local museums and archives.
In May 2006, Patrick was elected as a Councillor in the London Borough of Hackney.
What I learned along the way is...
....to develop your leadership skills whilst supporting others at the same time.
My greatest influence has been....
.... understanding and analysing the historical lessons of struggle and achievement to develop strategies for resilience and forward planning in a challenging social and political context.
The best advice I ever received was....
....'No man is an island'. No matter how successful you are, you still need to have a good network of friends, supporters and family members as the journey of achievement is a bumpy one with lots of traps and pitfalls along the way.
My top tips for succeeding in my career area are.....
You need to be two steps ahead of your game and know when to dodge the bullets of negativity and challenge that you face in your career and profession.