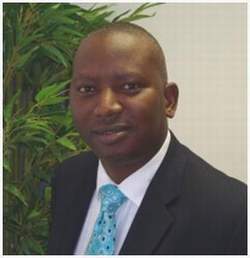 Lishala Situmbeko
Banker & Economist
I was educated at....
....at Boston University (Massachusetts, USA), University of Nairobi (Nairobi, Kenya) and the University of Zambia (Lusaka, Zambia).
My first job was....
....as a metal fabricator at a leading engineering firm, Gameco Engineering at the time.
What I do now is....
.... I provide forex, money markets and derivative solutions to banking customers.
Lishala Situmbeko is a banker with former state-owned and Rabobank International acquisition Zanaco Bank Plc in Zambia, a role he has held since May 2010. He heads the Treasury Sales and Structured Products team providing foreign exchange, money market and derivatives products and solutions to customers in the mining, energy, manufacturing, telecommunications, government and agricultural sectors among others. Lishala held a similar role at Barclays Bank Zambia Plc where he joined in 2007 after a five year stint as a central banker at the Bank of Zambia.
Following major restructuring that saw the Zambian central bank embrace market practices in managing the foreign exchange market in Zambia, Lishala was the first ACI (the Paris based Financial Markets Association) accredited Foreign Exchange and Money Markets Dealer at the central bank in 2004 and was instrumental in setting up the central bank intervention framework and practice post 2003.
In his spare time, Lishala contributed to the global debt crisis campaign in 2004 after lead-authoring the critically acclaimed paper, Zambia: Condemned to Debt, under the UK based World Development Movement.
At the invitation of the United States Government's Fulbright Commission, Lishala was a 2004-05 Hubert Humphrey Fellow at Boston University in Massachusetts where he studied Banking and Finance gaining significant global exposure to stock, equity, treasury, and commodities markets.
In 2005, he was a Fixed Income intern at global asset manager State Street Global Advisors (SSgA) effectively opening up a relationship between State Street and the Humphrey Programme at Boston University. During the 2004 US presidential Election, Lishala, on behalf of the American Centre in Zambia, provided Elections coverage focusing on Democratic Presidential aspirant Senator John Kerry.
Professionally trained as an Economist, Lishala served the Government of Zambia for 6 years at the Ministry of Finance where he played key roles in getting Zambia's Poverty Reduction Strategy Paper (PRSP), which led to debt relief, approved. He is a member of the Economics Association of Zambia, the American Economics Association, ACI-The Financial Markets Association, and the Professional Risk Managers' International Association.
He is currently a candidate in the Chartered Financial Analyst (CFA) Program with the CFA Institute, USA. At 37 and married with 4 kids, Lishala feels the sky is the limit.
What I learned along the way is...
....think global, act local and know what you want.
My greatest influence has been....
.... my late mother who was the first female State Counsel (equivalent to the Queen's Counsel in the UK) in Zambia who taught me to strive for humility, diligence, and honesty.
The best advice I ever received was....
...."Go to college" which is what I was told when I almost went off the rails immediately after High School.
My top tips for succeeding in my career area are.....
....focus, focus, focus.